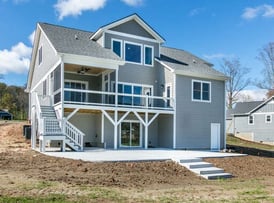 If you ever have sat down and pondered about your future, the visualization of your dream home has probably come to you a time or two. You may have pictured your house deeply secluded in the woods or in that cookie-cutter neighborhood you've always dreamed of.
But what you may not have wondered about was the square footage of your home, and today, we want to provide you with a few things to remember before you purchase a big home.
Rule of Thumb:
A commonly accepted rule for figuring out the appropriate amount of square footage in you home relies on this simple equation:
Number of Occupants x 600-700 sq ft per person = Total Living Space (sq ft)
For example, if one home has 3 individuals living together, the desired square footage would be around 1800-2100 sq ft total. This equation can help you more precisely narrow down the house size that you desire most. It's not an end-all exact guide, so you can add or detract space depending on your home necessities, personal hobbies, and future needs.
To give you a better idea of what most Americans have at the moment, the Census Quarterly Starts and Completions by Purpose and Design and NAHB analysis found that the average size house was about 2,310 square feet in the first quarter of 2022.
Plan for the Must-Haves:
This doesn't have to be anything fancy and it's okay to not be an artist at this step! Just take out a pen and paper and get to drawing up your dream home room by room. Imagining the layout in your head may not be enough to figure out what you want, so creating a visual can help you decide what is and isn't necessary for your lifestyle choices.
You can ask yourself questions like: Which room do I typically spend most of my time in, in my current living space? Figuring out which room you use the most and how you use it can help you expand on what rooms you need to take up more square footage or not. Planning a home in advance can help make the initial layout process much quicker and easier.
Optimal Number of Floors:
Most Americans live in either a one or two-story houses. So what are the benefits and drawbacks to both?
One-Story: These homes typically are less expensive to design and are more accessible for children and older individuals. The average staricase takes up about 100 sq ft of space, so opting for a one-story home can allow for more room. The option for high ceilings or skylights is easier for these type homes. On the downside, one-story homes often have less privacy due to being on the ground floor.
Two-Story: These homes typically allow for better views and better privacy from neighbors. They don't require as many building materials due to the floors being stacked. Two-story homes may also allow for more varied design options where you can play with the extrior facade. A drawback to these style homes is they typically use more energy to heat and cool and often have times where the upstairs is hot but the lower floor is cool.
We have a great blog that dives deeper into the differences between one and two-story homes, if you're looking for more information to find your ideal house layout.
Avoid Going Bigger for Looks Alone:
Although it may be tempting to purchase a big showy home, it's important that you keep in mind this home is for you and your family. Purchasing a large home to show off to neighbors can lead to a poor financial decision that you may not even be happy with in the end. House size is a very important factor that tends to get overlooked. Be sure to remember that smaller homes are less expensive, easier to maintain, consume less power, and are a way for your family to interact more with each other. It's also important to keep in mind you might not want to keep up with the responsibilities of a large home as you age.
At Vista Developers, our goal is to bring inspired community concepts to those seeking to reside in Western North Carolina. Give us a call at (866) 519-2400 or contact us online so we can help you get started in building your perfect home. Discover more about what we offer by clicking the banner below to view all of our different available floor plans!