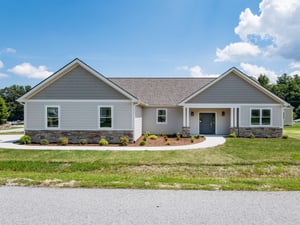 When you are searching for a new home, there are many questions that you need to ask yourself. What neighborhood do you want to live in? Do you want to build a custom home or buy a move-in ready home? Do you want a single story or two-story home?
Because there are unique advantages to both styles, it's important to know which style would work best for your family and lifestyle. So, what are the important differences that might affect your family?
One-story home
A single story home is safer for families with young children and for older couples who may need accessibility. Living in a single story home allows you to "age in place".
With no living quarters above you, you won't have to worry about noise from foot traffic on a second story.
It's easier to access and clean your gutters, roof and outside walls.
One-story homes are easier and more cost-effective to keep warm or cool. Air conditioning generally circulates more fluidly throughout one-story homes meaning its easier to control the climate.
One-story homes are normally more popular to homebuyers. They tend to have more character and are easier to resell.
With being on one level, it's easier to evacuate a one-story home in an event of a fire or other emergency.
Two-story home
When living in a two-story home you get more house on the same amount of real estate. This makes it easier to maximize your living space and have more rooms and storage without taking up all of your property.
Sure, you can gaze out the window of a one-story home, but it's not the same as the coveted perspective from a second-story window. Ever dreamed of sitting on your balcony overlooking the mountains? You can have that in a two-story home.
The benefits of a two-story home include the potential for larger rooms and a functional layout. You may prefer a design with the bedrooms and bathrooms upstairs so that you have more privacy and space. Then, with the living areas downstairs, you can enjoy an open floor plan.
If you have young children now, you'll appreciate having second-floor bedrooms when your kids grow into teenagers. Having a two-story home allows the children and parents to have their own spaces within the home.
Custom Floor Plans and Move-In Ready Homes
Whether you are ready to build or looking for a move-in ready home, Vista Developers is here for you every step of the way, from searching for your new lot to handing over the keys. We offer a great selection of one- and two-story home floor plans in addition to one-story floor plans with an option for a second-floor guest suite.
Contact us today by clicking the banner below or give us a call at (866) 519-2400.