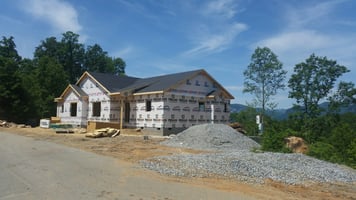 You're going to build your dream home and you've thought it all through – or so you've thought. While most future homeowners are fantasizing about decorating, we want to make sure you consider the true reality of building a home. To guarantee a smooth home building process, check out our 4 tips and never feel overwhelmed:
Know Your Budget
Poor budgeting and planning can lead you to spending more than you intended and cause you to have a monthly house payment that will stretch your wallet (and your patience). We've seen it happen plenty of times before, so we want you to determine whether you can afford to build the home you want.
Most house plans offer an online tool that can give you an accurate estimate of construction costs depending on where you're building your home. This will give you a good idea as to whether you should move along in the process or dock garnishes where you can. When considering building a house, make sure you have the money for the actual construction of a home. The pizzazz of decorating and painting should be budgeted in after.
Choose Your Floor Plan
When it comes to your floor plan, try to be realistic when putting a twist on your design work. One big mistake that we often see is homeowners paint this nice picture of what they want their house to look like, while forgetting to stencil in the effect of what walking up two flights of stairs daily may have on them in years to come, or if that extensive game room upstairs is really necessary if the kids are heading off to college in a few years.
Figure out a plan that fits to your family lifestyle, and weigh the pros and cons of a single story home as opposed to a multistory home. Have you considered whether you want your laundry room upstairs or if it would be better next to your kitchen? Did you know placing the master bedroom on the first floor is an important asset to selling your home in the future? If you don't think this home is your last stay, putting the master bedroom downstairs will make your home easier to sell later on. View our floor plans here!
Research Your Builder
There are more than likely plenty of contractors in your area. However, how many of those contractors are worth your money? Be sure you've done your research to find out which builders have the best reputation in your area. You can search for information online or get recommendations from your family and friends to find out whether a builder is respected for doing quality work and if he gets the work completed by deadlines (so long as weather permits).
You need to be comfortable with your contractor and his team, and if you question whether they have the right experience to build your new home, then they probably don't. Note that you need to sit down with your contractor and tell him your specific needs. He can't do his job up to par unless you tell him the ins and outs of what you want.
Explore The Area
Whether your site is in a neighborhood or in a rural area, make sure the location fits you. You might want a house out in the country, but make sure you're okay with driving half an hour to get to the grocery store or local mall. Fantasy is better than reality sometimes, and we want to make sure you avoid that.
More importantly, you want to check into the land your house will be situated on. Make sure you have enough space to build not only your home but your garage, shed, carport, playhouse, or garden area. You also need to check into any codes or laws that may affect what you can build in the area. Lots of people don't know, but you can't install a pool just anywhere. Make sure you take questions and concerns like that into consideration when building your home.
Contact Vista Developers
Whether you're still in the dreaming phase or already packing boxes, we'll be happy to answer any questions you might have about the Vista Developers building process. You can reach us by calling (866) 519-2400 or contact us online here. We look forward to helping you build your new custom home!