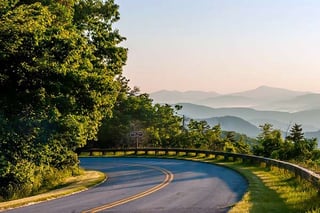 Extending southwestward through the states of Pennsylvania, Maryland, Virginia, North Carolina, South Carolina, and Georgia, the Blue Ridge Mountains are pleasantly dignified for nearly 615 miles. Folks that have never lived or spent much time in the Blue Ridge Mountains may think a trip there would be monotonous.
They'd be wrong.
Those who do live in the Blue Ridge Mountains sing a different tune— these beautiful mountains are something special, with friendly inhabitants and a humble and homespun nature that welcomes just about everyone. The Blue Ridge Mountains are one of the oldest, most accessible, and culturally fascinating ranges in the world. So sit back, relax, and enjoy our take on the Blue Ridge Mountains.
There's Plenty of Attractions
Consider weekends where you can explore a new area every single time. If that is something that interests you, then the Blue Ridge is the place for you! With roaring streams, meadows full of wildflowers, and blazing sunsets over our mountaintops, the Blue Ridge is a treasure trove of natural wonders.
Placed in between these beautiful wonders are our beloved man-made wonders: the Biltmore Estate, the popular private estate and tourist attraction in Asheville, North Carolina, Blue Ridge Parkway, a 469 mile experience revealing stunning long-range vistas and close-up views of the mountains, visitor-friendly farms and State Parks just waiting for adults and kids to come visit. Most of these areas are kid-friendly, so the entire family can enjoy the adventure together.
There's Plenty of Activities
If you love to hike, bike, run, and kayak, then you should know the Blue Ridge is filled with outdoor activities. Whether it be ziplining, waterfall hunting, or camping, there's plenty of parks you can find that will have everything you are looking for and more. Camp for the entire weekend and get away from the city life, or hike for the day and enjoy good food and spirits in our historic towns, such as Asheville. Take up fly-fishing, paddleboarding, rappelling, or white-water rafting at Green River Adventures, and you don't want to miss out on an unforgetful adventure at the Great Smoky Mountains National Park.
There's Plenty Of Areas To Live
Starting with us — Vista Developers! The Blue Ridge Mountains have a jaw-dropping beauty that is known to keep visitors coming back year after year. The Vista Communities are located in the center of Western North Carolina, which is the perfect place for hiking, fishing, skiing, or just sitting back with a cup of coffee and taking in the view. We offer a lifestyle that's about reconnecting with family and friends and leaving everyday stresses behind. If this seems like an area that interests you, then it's time to schedule and tour and see what the Blue Ridge Mountains have to offer. Contact us online or click the banner below to come see us!