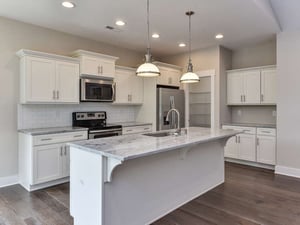 We have all dreamed of our "forever home" including luxury features like beautiful granite or quartz countertops, stainless steel appliances, or outstanding curb appeal with a spacious front porch.
Will all those luxury features truly serve to create a lasting perfect home for you?
Let's face it, we are all going to get older, and when building a custom home we tend to get lost in that exact moment and forget about the accessibility we will need later on. Here are 3 things that you want to consider when preparing to build your custom "forever" home without compromising your must-have features.
Set Your Priorities
What is your preferred location and why? Whether your site is in a neighborhood or in a rural area, make sure the location fits you. You might want a house out in the country, but make sure you're okay with driving half an hour to get to the grocery store or local mall.
What community do you dream of being apart of? Are you wanting to be in a more family-friendly neighborhood or are you looking for more privacy? You want to love where you live not just love the house you live in.
Will Your Lifestyle Change?
A lot can happen for you in 25- 30 years, so it's important to consider the different life changes you will go through. Many family homes become "empty nests" as young children grow up and move out on their own.
Consider the following things when choosing your layout and design features:
Layout and room size — Open-concept layouts are becoming increasingly popular throughout the past years. They are extremely functional and accessible. You don't want to trip over someone cooking while trying to get to the refrigerator. Ideally, you want to have at least one bedroom and full bathroom on the main level, tucked away from common areas. This room can be your playroom, study, or craft room early on and will come in handy as your master bedroom once getting up the stairs becomes a daunting task. It's also important to have your laundry room on the main level.
Do you have space for a home office if you have a shift in your career? — Do you one day wish to work from home? Would you like to have a space dedicated for your children to do homework? Having multi-purpose spaces and flexible rooms can help serve a variety of functions.
Mobility barriers and home modifications — These are some easy features that you can add now that will help you later on:

A roll-in master shower on the main floor
A molded shower seat
Open, spacious floor plan
Raised toilet seats
Variety of surface heights, such as countertops that are lower in some places
Raised, front-loading washers and dryers
Mounting your garbage disposal controls on the counter
Using no-slip materials, such as tiles with texture and carpeting with low-pile and tightly woven
Handrails on both sides of your staircase
Understand Your Budget
Of course, the most important aspect to consider when building your forever home is what can you afford. Make sure that the cost of living in your desired location is affordable and acceptable for you. You want to also consider the cost of the upkeep of the home itself and budget for the items that you will need to make it truly yours.
If you already have a full understanding of your budget, that's great, but you should still come to your builder with a budget in mind so you will have a good starting point for your new home.
Does the Idea of Building Have you Flustered? We Can Help!
We know that building a home from scratch can sound extremely scary and time-consuming. At Vista Developers, we work with each of our clients closely to make their dreams a reality in Western North Carolina without all of the hassle.
If you are interested in talking to one of our builders and coming home to one of our Vista Developers' communities call us at (866) 519-2400 orhttps://www.vistadevelopers.com/contact-an-agent/ https://www.vistadevelopers.com/contact-an-agent/ anytime!
Download our free infographic on common misconceptions about custom home building by clicking the banner below.