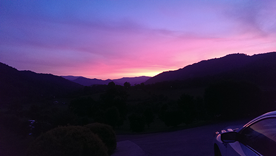 It may sound a little biased when we say Western North Carolina (WNC) is the best place to live, but we have the proof to back that claim up. Not only is the area a melting pot guaranteeing you'll never experience a shortage of interesting people to talk to, but it's perfectly placed so that you could spend a night in the city as easily as you could go for a camping trip.
With that being said, if you're not already convinced you should move to WNC, here's a small inkling of why you should:
Nearby Cities You'll Be Sure To Enjoy:
Remember we mentioned the nearby city life?
When you live in WNC, you're only a short drive away from Asheville, Hendersonville, Greenville, Lake Lure, and more! Each of these cities has all the amenities you enjoy from bigger cities but on a slightly smaller scale. If you're in need of a fun, yet affordable weekend getaway, check the surrounding areas out! There's plenty, and we mean plenty, of chances for wining, dining, and dancing. And if that's not quite your bag, we also have opportunities to enjoy the great outdoors, like...
That Outdoorsy Kind Of Fun You May Be Into:
Golfing, biking, hiking, camping, and fishing only scratch the surface when it comes to what outdoor fun can be had in WNC.
Whether you want to take a day trip to a beautiful waterfall (it's a view you'll never grow tired of) or turn your average hike into a full-fledged camping trip, WNC offers so many outdoor adventures that you'll never run out of things to do. Not what they call "outdoorsy?" There's some epic shopping that'll have you wishing you moved here sooner.
Epic Shopping That'll Have You Wishing You Came Sooner:
WNC is virtually made of small businesses, guaranteeing you'll get a retail therapy experience you simply cannot get anywhere else. Walk down any street to explore our local boutique stores, hardware stores, exercise studios, art galleries, coffee shops, and any other type of business you could possibly think of!
Our local store owners fell in love with their towns as they grew up in the area, and now they're giving back to the WNC community in the best possible way: by providing domestic, homemade goods and services. Big cities seem to lack homegrown companies, but in WNC homegrown is the best known. We're proud of our amazing local businesses, and want you to enjoy them as much as we do.
You have to live somewhere, so why not love where you live?
We here at Vista Developers are here to help you enjoy every part of life in WNC, so when you choose to live in a Vista community, you're choosing to live in a dream home in a dream area of the southeast... and what's not to love about that?
If you're interested in starting a new chapter in your life, we'd love to help you write it. Click the banner below to see our communities, give us a call at (866) 519-2400, or contact us online today!