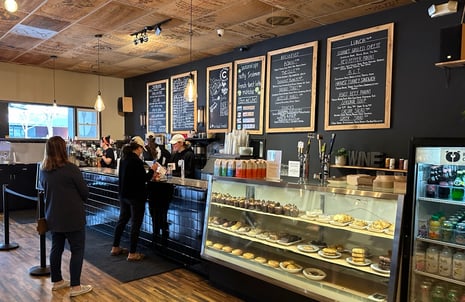 Asheville may be best-known for being Beer City, USA, but there's more to this mid-sized city with a small-town feel than locally-brewed craft beer.
Asheville is also a haven for some of the best coffee in the Southeast! From downtown to the surrounding area, Asheville is full of locals who take their morning cup of coffee very seriously. We've picked out 8 great options for asheville coffee shops you should try — and a few runners-up, too.
When you're spending time downtown:
Green Sage Cafe - It's not just a great location to pick up a cup of coffee, they also serve delicious organic, healthy food and are known around Western North Carolina for their smoothie and juice options, too! Our favorite? The seasonal pumpkin spice latte is the perfect take on this beautiful season.
Malaprop's Bookstore/Cafe - An eternal downtown favorite, Malaprop's is a bookstore with a cafe inside. We suggest you try the Wolf in Cheap Clothing — a honey and vanilla soy latte that starts your day off on the sweet side.

A great place to grab some coffee when you're strolling the River Arts District?
Clingman Cafe - Ask the artists who have their studios around the neighborhood and they're likely to recommend this joint. A breakfast and lunch spot that serves great organic coffee alongside soups, salads, sandwiches, and more, Clingman is a local favorite.
PennyCup Coffee Company - This is a roaster located just on the other side of Murray Hill Park. PennyCup coffee roasts their beans to perfection, and it's worth a trip to their tasting room to experience a truly fresh first sip.

Looking to start your morning right in West Asheville?
BattleCat Coffee Bar - With a focus on locally-sourced coffees (their daily brews come from PennyCup Coffee!) and artwork by local artists on display, you'll find Asheville's heart and soul right inside.
Odd's Cafe - may just be the coffee spot you've been searching for. Come in the morning for a perfectly made cappuccino, or settle in for live music in the evenings.

Hoping for options that aren't in the city limits?
The Dripolator - A small-town place with charm and a great sense of humor, you'll love strolling the streets of Black Mountain, cup in hand.
Tandem Creperie and Coffeehouse! - Located not too far away in Traveler's Rest, SC. Sweet and savory crepes are available, with a menu (and specialty latte options) that change by the season.
With local coffee roasters providing supplies to many of the coffee shops on this list, Asheville citizens know what it means to "shop local" — even when it comes to your morning latte.
We think you'll love Western North Carolina
From Asheville to Hendersonville right up to the top of the mountains, we love this place. That's why we chose to build our luxury communities in this beautiful area.
Are you considering a move to the WNC area and looking for the perfect home for you? We'd love to speak with you.
You can reach us by phone at (866) 519-2400 or contact us online today! Click the banner below to download our Ultimate Relocation Guide!