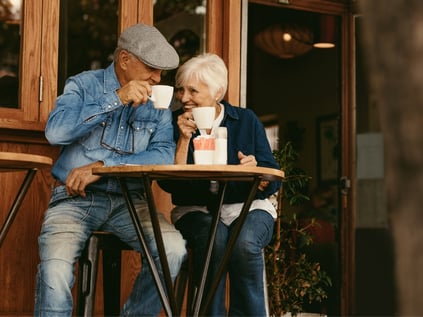 Western North Carolina has gotten some (well-deserved) praise as a great place to retire over the past few years. It has almost all you could ask for: a 4-season climate, close proximity to the Appalachian Mountains, and nearby cities full of activities for people of all ages. When you're looking to settle down for retirement, it's important to find a place that will meet all of your needs. Before you take the leap and move, we've compiled 4 reasons to retire in Western North Carolina that we think you should look at.
You don't have to sacrifice your active lifestyle.
WNC is known for its place right in the foothills of the beautiful Blue Ridge Mountains. This opens you up to many more outdoor activities than what you would get living in the suburbs on the outskirts of most cities. There are plenty of golf courses in the region, including the Bald Mountain Golf Course, which features views of Lake Lure and Chimney Rock.
Western North Carolina also boasts beautiful hiking trails and state parks open to all experience levels. All of this space for outdoor activities and a mild climate year-round means you don't have to drop your favorite hobbies to retire in a place as wonderful as this.
You'll have access to some of the best healthcare in the country.
Western North Carolina has been a common choice for retirees for decades now, and a top-notch healthcare infrastructure has built its way up, giving you great options for ongoing care once you're settled in.
AdventHealth in Hendersonville has a 5-star quality rating for Medicaid and Medicare services. Asheville's Mission Health System and UNC Chapel Hill Hospitals have helped to create a network of healthcare that brings excellent medical services to your home.
You'll be able to meet plenty of new people!
Maybe you're not just looking for an escape for retirement. Maybe you're looking to find people with similar interests to make new lifelong friends. WNC is known for friendly locals and vibrant, close-knit communities. Spend a day out shopping in towns like Hendersonville or Asheville or join the multitude of clubs available and you'll make new friends everywhere you go.
Our Vista communities are also a great place to make friends with your local residents! The community clubhouse can be reserved for various group gatherings such as Book Clubs, Committee Meetings, Mahjong, Cards, Educational Opportunities, Yoga or other Private events. Schedule one today and get a group together.
Your fixed budget is welcome here.
Sperling's Best Places Index ranks North Carolina as 9% cheaper than the overall national median. MERIC data ranked North Carolina as having the 25th lowest cost of living in the United States. Another reason to retire in North Carolina is they offer tax breaks for seniors over 65, allowing exemptions up to $35,000 of your retirement income from state taxes.
With Western North Carolina's mild mountain climate, you won't find yourself spending left and right on keeping cool in the summer and warm in the winter, and the growing local farm scene means it's easy to find affordable, locally grown fruits and vegetables right nearby rather than a grocery chain.
Ready to Get Moving?
Retiring in Western North Carolina doesn't just mean settling in Asheville. Vista Developers has wonderful communities spread throughout the Blue Ridge Mountain area like Bill's Mountain at Lake Lure.
With beautiful houses built to your standards and communities that let you decide whether you'd love to spend your days out golfing, shopping in our friendly local towns, or even just sitting on the porch with a cup of coffee watching the sun rise over the mountains. Vista is here to help you make your retirement everything you've dreamed of.
To learn more about our communities and available homes, give us a call at (866) 519-2400 or contact us online today!