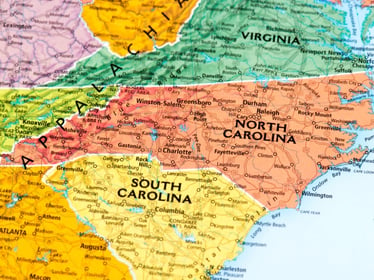 Everyone knows that when you retire, you move to Florida, right?
Well, yes but no. Swathes of retirees have come to realize Florida isn't for them. So, they move halfway back up the East Coast or closer to their relatives and most land in the Carolinas. When people follow this migration pattern, they're called Halfbacks. And this isn't the type of halfback you know from football.
So why do they migrate back halfway back after moving to the Sunshine State? There can be several reasons. If you're considering making this beachy move, here are some reasons why people end up not staying in Florida before you make your move.
Florida is very sunny, but it's also very humid.
Florida is called the Sunshine State for a reason. They get a lot of sunshine. All of this sunshine is good in small quantities, but too much can lead to a higher chance of skin cancer. Along with that, temperatures can range from 73-95 degrees Fahrenheit across the state. Maybe that doesn't sound bad to you, and you like it toasty. But when it's paired with high ranges of humidity, it can become unbearable and even dangerous. High heat and humidity can prevent you from letting your body cool off naturally, which can lead to heat strokes and other heat-related illnesses.
Hurricanes and flooding threats mean higher insurance.
Many people move to Florida to escape to a warm beach paradise. But living on the beach has its benefits, and it's drawbacks. One of those big drawbacks is high property insurance. With a home only steps away from the beach, you are putting your property at high risk of flood damage. Florida is also notorious for its hurricane season, which can leave devastating damage in its path.
Tourism in Florida is really, really big.
In 2022, Florida welcomed in 137.6 million visitors, the highest number the state has ever seen. That number may even keep growing in size. This is great for Florida's tourism-based economy, but maybe not so much for your personal life. A swell in tourists means increased traffic and congestion and the possibility of home rentals scooping up the nearby properties. This in turn can raise housing prices and prevent you from having consistent neighbors. Florida is well known for having no income tax. But because of the large sect of tourism within Florida, you will be paying a lot more in sales taxes.
How can I keep from being a half-back retiree?
We've made a previous post about why you should consider moving to the Carolinas. Maybe Florida seems like the place everyone goes. But that doesn't mean everyone stays. Avoid moving twice, and make the leap into the Carolinas. You may be surprised how much more it can offer than the Sunshine State.
Overall, North Carolina is the perfect spot to retire and settle down. See for yourself.
---
Avoid moving twice. Head to North Carolina first!
At Vista Developers, you can build your home or buy a spec home. We can help you determine whether it is better to build or buy. We also offer the best of both worlds: we're located in the foothills of the Blue Ridge Mountains and only minutes from Asheville, NC. Schedule a visit with us below and come see why North Carolina is a great place to be!