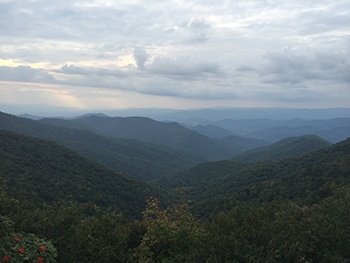 Western North Carolina is an outdoor lover's paradise with mountain biking, hikes to waterfalls, and lakes. January may seem like an odd time of year to get outside, (who are we kidding though—it's always a great time to be outdoors) the weather is still cool and spring allergies haven't set in, so get out there and enjoy what the great outdoors has to offer. From endless mountain views to hiking at the Biltmore Estate, here are four hikes the whole family can enjoy.
Craggy Pinnacle Hike
Just a short 20-minute drive from Downtown Asheville way up on the Blue Ridge Parkway at Milepost 364.4 is Craggy Gardens. From the Craggy Gardens Visitor Center, drive north through a tunnel and pull into the next parking area on the left for the trail. This trail is 1.4 miles round-trip while only gaining 242 feet in elevation. The Craggy Pinnacle Hike rewards you with endless panoramic 360-degree views of the Blue Ridge Mountains.
Black Balsam Knob
A must-do on the Blue Ridge Parkway is to stop by Milepost 420.2 for Black Balsam Knob. To quickly reach the summit, it's best to take the section of the Art Loeb trail on Black Balsam Knob. This portion of the trail is about a ½ mile walk gaining around 1,315 feet in elevation. On this trail you will pass through an open grassy meadow covered in wildflowers.
Max Patch
The cool thing about Max Patch is you have two different ways to get there. From the gravel parking lot, you can either choose the 1.4 mile trail that will take you directly to the top or the 2.4 mile loop. The direct hike is a gentle climb on a narrow dirt path and is an easier choice when hiking with children. The loop will take you through wooded, rockier areas. Max Patch is a perfect place to have a picnic or fly kites. The summit is a "bald" which means it's a hilltop without a single tree.
Biltmore Estate Hiking Trails
If you don't want to spend your whole day in the great outdoors, head to the Biltmore Estate. You can get your exercise on their various hiking trails, get a history lesson as you take a tour of the estate itself, then enjoy dinner and a wine tasting at the adjoining Antler Hill Village.
Contact Vista
These are just some of the hikes that the Western North Carolina area has to offer to you and your family. If you are looking to make the Western North Carolina Area your new home or would like more information on building your dream home in the Blue Ridge Mountains contact Vista Developers today!