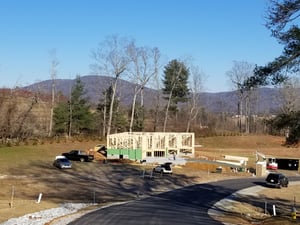 When it comes to buying a home, most people are very familiar with applying for a mortgage, purchasing, and moving into a home that is already built. However, construction loans designed to help you build a brand new house from scratch can be a little more difficult to understand than your typical mortgage.
We are going to break down how construction loans work, so you'll feel more comfortable with the process when it comes time for you to start digging.
The basics
A traditional home loan is known as a "mortgage". Generally, a mortgage is a loan with a 15- or 30-year term at a fixed rate, where the borrower makes principal and interest payments for the life of the loan. These types of loans can be obtained through conventional lenders or through special lending programs such as FHA (Federal Housing Administration) and the VA (Veterans Administration), if qualified for.
Constructions loans are there for you so that your new custom home can be built during the construction process. These loans normally reflect the amount of time needed to build your home, which can range from 6 months to a year.
Once the loan has been approved and construction begins, the lender will monitor the progress of the project and pay the builder at designated intervals. These payments are referred to as draws, and there may be several of them throughout the project.
For example, if you have a $350,000 construction loan, you won't have to actually start paying anything on it until your builder requests a draw (perhaps something like $30,000 to start) and then you'll only pay the interest on that $30,000.

Treat your construction loan like a big credit card
Your construction loan sort of works like a big credit card. As your home is being built, and once your home is complete, you will get a mortgage for your completed home, which will pay off the balance of your construction loan.
You don't need to get your mortgage through the same lender that you use for your construction loan.
Expect higher interest rates
You can expect to see a higher interest rate with a construction loan than you would see with a traditional mortgage. However, unlike your traditional mortgages, construction loans aren't meant to be long-term. Some lenders will offer a fixed rate in exchange for a larger down payment or higher closing costs and fees.
But remember!

For most construction loans, whether they're variable or fixed-rate, interest is charged only on the money that has been actually paid out. So payments are lower at the beginning of the construction project and increase as more draws are paid out to the builder.
Approval is harder to get
Getting approved for a construction loan can be harder than getting a mortgage for a home that's already built, because there's no existing property for foreclosure purposes if you default.
You will usually need strong credit and a down payment of 20% to 25% to be approved for a construction loan. The specific down payment requirement is determined by the cost of the land and planned construction. If you already own the land, you can use it as equity for your construction loan.
Build With Vista Developers
At, Vista Developers we work with our clients on selecting a lot in one of our beautiful, mountainside communities and from there we help make their dreams come true.
If you are looking to relocate or build in the Hendersonville and Lake Lure, North Carolina area contact us today by clicking the banner below or call (866) 519-2400.