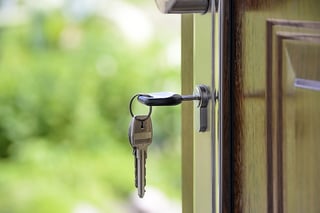 For most of us, buying a home is the largest purchase of our lives, and the process is far from simple.
If you've done the math, have your budget and must-haves in mind, and you're ready to choose the perfect place to live, we've put together a few things for you to consider when trying to decide the best time for you to buy a home.
January Is The Start of Spring For The Real Estate World
As one would predict, spring is the best time to list a home, with winter being a close second. People have been stuck in their homes bundled up next to their fireplaces for the holidays and now it's time to get outside and start preparing their homes to sell come April and May.
Home sales tend to rise with the warmer tempatures, so spring is prime time for the real estate market! Spring is the best time for you to buy a home if you are considering the following:
Moving Before A New School Year
Spring allows the buyer with children enough time to get into their new address within the next school calendar year and transition their kids into a new school.
Do you have children in your family that would be affected by a new school zone?
Larger Inventory During The Spring
While spring may be the busiest time of the year for the real estate market and the inventory is full, is it exactly the best time for you to buy a home?
Be Prepared To Pay ASking Price
With a hot market comes more competition! Some buyers focus on how much the seller is asking instead of on how much the home is worth. Ask your agent to show you a CMA of comparable sales to determine actual value.
With Winter Comes Colder Weather and Less Competition
One benefit of listing in the winter is less competition from other sellers. While spring brings a larger inventory coming on the market, homes that list in the winter are much more likely to stand out. Buyers who are likely looking in the winter months are looking to move fast and want to close quickly.
If you are looking to buy a home in the winter consider the following:
Lower Inventory, More Motivated Buyers
The inventory is lower during the colder months, but the buyers are motivated to get into their new home. Sellers are motivated because most of the inventory is filled with homes that didn't sell during the peak season. It's the end of the season and tax year so, they are ready to tie up loose ends. This is a great benefit to buyers because there are more points to negotiate.
Buying In The Winter Can Be The Ultimate Test For The Home's Systems
All the big systems such as heating, plumbing and the roof and gutters are put to the test during the colder months. Yes, the curb appeal may not be at it's most beautiful moment, but fixing landscaping is a lot less expensive than finding out months later that your roof is leaving or your heat pump doesn't work.
Not Seeing Your Perfect Home? Consider Building With Vista Developers
It's important to understand your area's buying market. Overall, the best time to buy a house really only depends on what makes the most sense for your current situation. No seasonal discount is worth rushing into a decision, being locked into a 30 year loan on a high interest rate, or being pressured into choosing a house you aren't really happy with.
If you don't see any houses on the market that spark your interest or seem to be the right place for you and your family, consider building with Vista Developers! We've dedicated ourselves to building long-lasting communities that let our residents truly enjoy living in this uniquely beautiful location. Take a look at our communities to see if any of them work for you, or come by for a visit! Just give a call at (866) 519-2400 or contact us online at any time to learn more today.