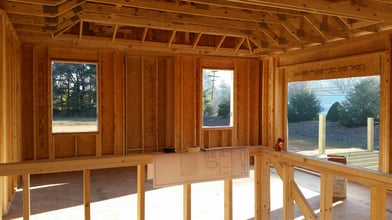 Whether you're doing a home renovation or building from scratch, it's always nice to be able to cut back on expenses during any construction project. You want to build a comfortable home that you enjoy, but don't want to spend a fortune and be living well above your means.
We've put together the following tips that may help keep your building budget within reason, without compromising the home you want.
Consider A Pre-Designed Home
Building the perfect home doesn't mean that it has to all start from scratch. Customizing a pre-designed home can be one of the most affordable ways to build a house while still having those custom design features. You can customize your home with different cabinetry, countertops, flooring, and much more.
Pre-designed doesn't have to mean cookie-cutter. At Vista Developers, it's important to us that our customers get exactly what they want! That's why our plans are fully customizablse—so add that sunroom or soaking tub you've always wanted. Plus, we offer different levels of energy-efficiency packages to your desired preference.
Choose The Right Floor Plan
Figure out a plan that fits to your family lifestyle, and weigh the pros and cons of a single-story home as opposed to a multistory home. If your family never eats in a dining room, consider an open kitchen instead. Is your family likely to grow soon? You might want to choose a floor plan with a bonus room or spare bedroom. Being aware of the future and what is right for you and your family is very important to consider when choosing your floor plan. View our floor plans here!
Stay Organized
Staying organized is always a best practice. You'll need to keep all of your paperwork organized to get the best mortgage and construction loans.
Make sure to work along with your builder to keep up with the project timeline and who is responsible for each step during the building process.
Check Out What Furniture You'll Need
When you're moving into a new home, you are probably not looking to replace every piece of furniture. But if you are moving into a floor plan with a lot more space you'll want to be on the lookout for those fancy new pieces to fill in your home.
Speak with your builder about your specific floor plan to know your room sizes and make a list of what new pieces of furniture you will need to include in your budget. This helps keep you from panicking about the cost of new purchases and you will already be aware of what you need and can keep a check on furniture sales!
Hire The Right Builder
There are more than likely plenty of contractors in your area. However, how many of those contractors are worth your money? Be sure you've done your research to find out which builders have the best reputation in your area. We can't stress to you enough how important this tip is! You don't want to choose the wrong builder and find yourself being overcharged and sold empty promises.
Here at Vista Developers, we truly want you to make your home unique and yours, which is why we care so much about our community. If you've chosen to build your dream home in WNC, we'd love for you to consider us here at Vista Developers.
To get started with us, give us a call at (866) 519-2400 or contact us online so we can answer your every need. You can even click the banner below to download our free ebook to learn what to expect when building with Vista Developers.