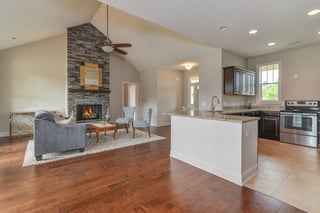 When you choose your floor plan, you'll start by looking at the basic price... and that's when the fun comes in!
You get to customize every detail of your home, from kitchen cabinets to garden tubs. What you spend is determined by the options and choices you make.
Granite countertops and stainless steel appliances were once pricey upgrades, but are now standard in most new homes. When making your choices, don't always pick based on the lowest cost.
Consider the following upgrades for a healthy return on investment:
Update Your Kitchen
Most people spend a lot of time in the kitchen, where they're interested in cooking as a hobby or just taking the time to feed the family. They're also one of the best places to get a return on your investment!
Pay special attention when choosing your cabinets, countertops, and appliances. If this home isn't your forever home, be mindful of what your future buyers will want.
Choose coloring that blends nicely together and more durable cabinets to handle the wear of day-to-day living.
Lights!
Most custom home buyers overlook the importance of lighting. Not only does lighting add to the atmosphere of your home, but it helps make your daily tasks easier.
Make sure you have enough light are your kitchen and your bathrooms, opt for overhead and task lighting, and if you have a separate shower from your tub make sure to have an overhead light there!
In the kitchen, most people choose recessed lighting and a pendant light over the island, but what if you had lighting under your cabinets?
This will help you see better while you are cooking, and can provide enough lighting for entertainment. It's a great way to maintain functionality without the harshness of overhead lighting.
Energy-Efficient Appliances
Tankless water heaters provide faster access to hot water while saving you money on your energy bills.
A high-efficiency HVAC system can keep your home cooler during the summer and save you hundreds or thousands of dollars on your monthly energy bills.
Extra Storage
Give yourself some extra storage with extra large or additional cabinets. You can never have too much storage, and if you're planning to eventually sell, extra storage in the kitchen always goes over well.
If you have the option to add in walk-in closets to bedrooms, make sure you do. This is a huge selling point to future buyers.
Flooring
One of our most popular upgrades is flooring.
Your floors are something you'll see throughout your home, and it makes a huge impact.
While this is often cheaper to do later, it can be a big hassle to take care of once your furniture and other items are moved in.
Build With Vista Developers
Whether you're still in the dreaming phase or already packing boxes, we'll be happy to answer any questions you might have about the Vista Developers building process.
You can reach us by calling (866) 519-2400 or contact us online here. We look forward to helping you build your new custom home!