Maximizing the beauty of your own home is a top priority as a homeowner. After all, who doesn't want a tidy and organized living space? A clear space is a clear mind, so keeping your home organized can make you feel good too.
However, it can feel like an overwhelming task when you have a larger home. But don't worry - We have compiled a comprehensive guide to help you get your home in its best shape.
Here are all the organization hacks we have to help you keep your home tidy. You can view Part 2 of our cleaning series here.
The Entryway and Living Room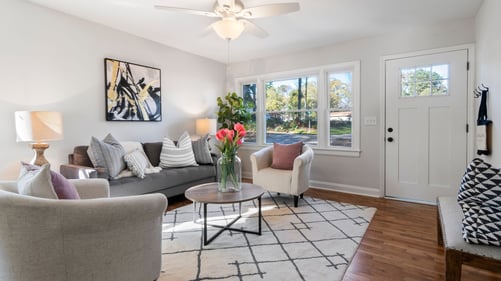 The entryway to your home makes the first impression on your guests. It can set the tone, so be sure to make it a good one! Ensuring that the entryway is well-organized will make guests feel welcome and safe in your home.
Install a coat rack: Elevate visual appeal while providing a place for guests to put their things.
Add a shoe rack: Neatly stores shoes and avoid front entrance clutter.
Introduce a small table or cabinet: This can serve as storage for everyday items that go in and out of the entrance.
The living room is where the *living* happens. As the space for parties and all other types of get-togethers, it's important that this room is free of clutter for your guests.
Add toy bins: Prevent accidents and keep your space tidy at the same time
Use a space divider: Applicable to open-floor plans, this helps create a visual separation between spaces.
Utilize your shelves: Store board games, video games, books, and more in an eye-catching way on your shelves (Ex. Sorted by color or object size).
The Kitchen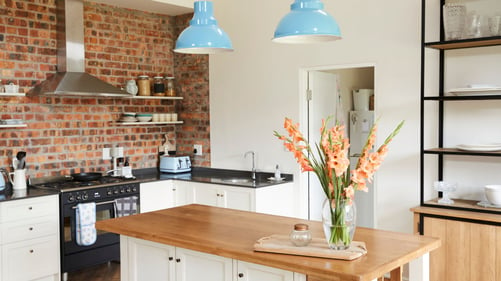 A kitchen is where your recipes come true, or they fall apart and almost burn your house down. With a good reorganizing of your kitchen, you can get one step closer to being a pro chef - no heavy equipment is required.
Get a spice rack: Store your spices so you can easily see what you have. Available in tons of shapes and sizes to fit your home.
Embrace containers with labels: Save your sanity by grouping baking goods, snacks, canned goods, pasta, and condiments into specifically labeled containers.
Install a hanging rack for pots: Store tools vertically to find equipment quicker and save more cabinet space.
Store cups, plates, and silverware: Stack and place them closer to the dishwasher and sink to make unloading easier.
Use FIFO in your fridge: Referring to "First In, First Out", this storing method helps you use older ingredients first before they go to waste.
Upgrade Your Home >> Ways to Upgrade Your Laundry Room and Mudroom
Not sure which foods go in the fridge? Here's a simple guide:
- Keep Refrigerated:
Broccoli
Corn
Cucumbers
Carrots
Asparagus
Mushrooms
Peppers
Apples
Berries
Citrus fruits
- Don't Refrigerate:
Tomatoes
Bananas
Winter squash (Butternut and Acorn varieties)
- Don't Refrigerate (Keep in a dark, dry location):
Garlic
Potatoes
Onions and Shallots (All varieties)
Pumpkins
Bedrooms - Big and Small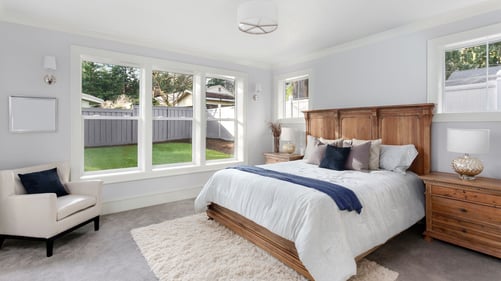 Bedrooms are where you need peace and calm, to help you be well-rested and ready to tackle what the world throws at you. That's why keeping your bedroom neat and free of visual clutter is important. We have some good bedroom organization ideas to keep your room clean.
Use flat storage containers: These can slide under the bed to remove visual clutter easily.
Invest in good shelving and storage cubes: Organize personal items into these, especially in small bedrooms.
Consider donating: Declutter your bedroom closet by donating outfits you haven't worn in a year or more.
Sort your clothes: Categorize your clothing by style, season, and color to easily find the right outfit for any occasion.
Add an over-the-door mount: These can add vertical storage for shoes, bags, scarves, and accessories.
Bathrooms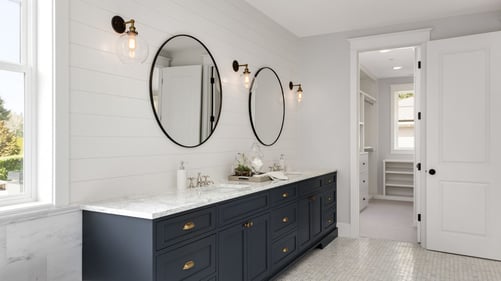 Bathrooms are well known for having cabinets and drawers that are usually full of chaos. Tame the mess with our organization hacks so that your trip to the bathroom is quick and easy.
Purchase cubby containers: Different size containers can hold products sorted by hair care, dental care, and bath tissues.
Toss expired items: Regarding makeup and sunscreen, there will either be an expiration date or label saying 3M, 6M, or 12M denoting the number of months it can last. Pitch things that have changed color or consistency.
Use a dirty laundry basket: Place it outside the bathroom to make it easy to toss your dirty laundry into the hamper.
Store towels compactly: Roll up clean towels and washcloths to maximize space.
Design More >> Half-Bath Ideas: Make the Most of Your Small Space
Find Peace in the Mountains
You deserve a break if you just completed the daunted task of cleaning up a room or two in your home. Sit on your porch swing and enjoy the views of the Blue Ridge Mountains for rejuvenation.
Our homes are built to make the most of the gorgeous landscapes in Western North Carolina and are available for families of all sizes. Whether you've lived in North Carolina for a long time or you've only just begun to experience the allure of the Blue Ridge Mountains, our Vista communities are right for you.
We'd love to help you in your move to Western North Carolina. Call us at (866) 519-2400 or contact us online today.