Kitchens are undoubtedly one of the most important rooms in a home. They are the place where food is prepped for family, friends, and guests to enjoy. New recipes are invented and old family recipes are recreated in this space.
A house can't really be a home without a good kitchen. If you are planning your dream home or in the process of building a new home in Western North Carolina, you probably have a number of layouts already in your mind.
Kitchens have been proven to be one of the most highly renovated rooms in a house, along with bathroom upgrades. Because we spend so much of our time in the kitchen, it makes sense to keep the room up-to-date and enjoyable to create in for beginner and expert cooks alike.
Kitchens are where the magic happens! Keep your space looking fresh and inviting for cooks of all skill levels with these 4 quick design upgrades. Feel free to mix and match whatever suits you and your home.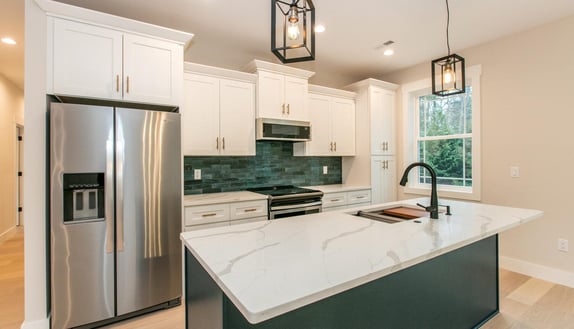 4 Ways to Redo a Kitchen
Repaint Cabinets and Replace Hardware — This may be one of the quickest and most affordable ways to get a kitchen looking brand new! Maybe your appliances have a lot of life left in them and you're not ready to invest in new tech. Thankfully, picking a new color scheme allows your space to look like it's gotten a fresh restart without hurting your wallet! Be sure to coordinate the cabinet color with the wall to make it mesh together beautifully.




Swap Out Old Appliances — Maybe this time around, you need to replace your technology. Kitchen appliances tend to have a life of 5-10 years depending on the manufacturer. It's good to look into stainless steel not only for its sleek and modern design but also for its durability. New appliances may also offer features that your previous hardware was not capable of, making it easier for you to cook!




Go for a Bigger Kitchen Sink — The sink may be one of the most important but often overlooked aspects of a kitchen. There can be a noticeable difference between using a small sink and a deep, tub-like sink. In larger, deeper sinks (like the one pictured here from the Culinary Dogwood layout) there is less of a chance for dishes to crowd and pile up quickly. It allows you to have a bigger space for hygiene and food preparation.




Introduce an Island to Your Space — Depending on your layout, it may be worthwhile to introduce an island! It provides more prep space for food and a storage room below for cooking equipment. If a whole new island is not feasible, a simple but elegant table can be put in its place and painted to match the cabinets. More workspace means more cooking opportunities!


Many of these kitchen upgrades are affordable and easy to DIY. Share with us some of your favorite inspiration boards for upgrading your kitchens. We'd love to see how you transform your space!
If you're still in the planning stages of building your dream home, we here at Vista Developers would love to help you find the perfect community in Western North Carolina!