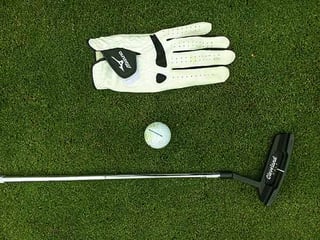 Ah, the thought of enjoying the quiet house all to yourself while your counterpart is away with friends doing what they enjoy best...golfing. If you've lived here for quite some time, you know the ins and outs of golfing in Hendersonville and have no problem finding a spot. But if you're new to the area, you may not know the best golfing places in town— the one that is a spectacular Father's Day gift (for those of you planning ahead), or the place your family will enjoy the most together. That's why we're here to help! Read below to find where the four magical spots are.
Located in the greater Asheville area in Fletcher, North Carolina, the scenery from the Blue Ridge Mountains and the French Broad River Valley create a beautiful backdrop for your golf experience here at Broadmoor. Not only is this a championship golf course, but it was designed by the one and only Karl Litten, an architect known for his unique designs, giving each golf course their own personality and work of art. Broadmoor Golf Links is particularly designed to be enjoyed in 4 hours, whether you choose to ride or walk. With tees measuring from 5600 to over 7000 yards, Broadmoor appeals to a golfer of any level, such as rookie to proficient. Broadmoor's clubhouse features spacious accommodations to enjoy after a day on the Links. Ask about the Carolina Card savings if you think you'll want to stop by more than once this year.
Cradled in the lap of the Blue Ridge Mountains and sheltered by the Great Smokies to the west, Cummings Cove allows you to step away from the real world and enjoy the relaxation of calm winds and a panorama of nature's beauty. Awarded in 2006 for "Best Renovation of the Year", the par 71 course features 18 distinctly different holes with a memorable 6,415 yard layout. Three unique par 3 holes highlight the back nine; one virtually hangs from a cliff. And, like Baltusrol, home of the PGA Championship, the course finishes with back-to-back par 5s. Cummings Cove has everything that makes golfing in the mountains special including elevated tees, tree-lined fairways, lakes, streams, waterfalls and see-forever views. Think you'll need a drink during this trek? No worries; ice and water machines and restrooms comfort you at the 6th, 10th and 15th holes. Need to host a golf tournament? We got you covered there, too.
Ranked among the world's Top 50 golf destinations by Golfer's Digest, Etowah Valley is an extraordinary setting for a timeless game. This 27-hole golf course offers unique terrain and an ideal climate with awe-inspiring mountain views as large as 9,000 square feet. This golf course offers you three courses: The "South" course plays from 2,776 to 3,507 yards, while the "West" course plays from 2,704 to 3,601 yards, and the "North" course from 2,615 to 3,404 yards. Three nine-hole courses and four tee positions allow for a variety of 18-hole combinations and offer a challenging, yet gratifying golfing experience which golfers can enjoy through all four seasons. Along with the three courses, you get 4 tee positions, 6 Par 3s, 14 Par 4s, and 7 Par 5s. Come and enjoy the golf course that is meant to be played on over and over again! Rates can be found here.
High Vista Country Club invites you to join them in a relaxing setting. Conveniently located 5 minutes from the Asheville-Hendersonville Airport, just fly on in and get to hitting the hole-in-ones. High Vista offers 18-holes of championship golf tucked in the heart of the Blue Ridge Mountains with views from every turn, tee, fairway and green! With five levels of tee boxes, the course winds through matured pines, towering oaks, vibrant azaleas and tranquil ponds. This golf course is also family-friendly, so bring your youngins along as they are sure to enjoy this spectacular setting! See what else High Vista offers after you finish playing golf.
Visit Us At Vista Developers
No matter what it is you enjoy, we have it all for you right here in Western North Carolina. Enjoy golfing, biking, water sports, equestrian, fishing, and hiking with us. If you are looking for more adventures in this area, check out the magnitude we already have listed for you. If you're looking to move to this area, we've got you covered there, too! Click the banner below and contact Vista Developers today to make Western North Carolina your new home.