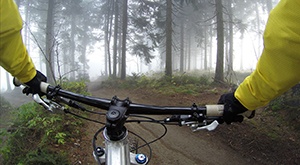 Western North Carolina has many things to offer for the outdoor enthusiast, and mountain biking has become a popular way to spend the day. Nestled right in the foothills of the Blue Ridge Mountains, the city of Asheville has become a hub for mountain bikers, both those new at the hobby and long-time experts. Grab your bike and get out on one of these popular trails!
Located Southeast of Brevard, Dupont State Forest is one of the most popular destinations for mountain bikers in Western North Carolina. The appealing thing about Dupont is you can bike to all of the waterfalls in the forest. Dupont offers 100 miles of trail from gentle forest roads to exciting single tracks with impressive scenery for you to enjoy along the ride.
There are five main parking areas. Most have restrooms and an information board including rules, events, and a good map. For your safety, you should have a map with you along the trails because there are a lot of trail intersections that could cause you to take a wrong turn along the way.
For beginner's, Pisgah Mountain Bike Adventures offers guided mountain biking tours. They offer self-supported guided trips that are customized to your level of expertise, with half, full, or multi-day rides that include a snack and lunch. They offer guided tours in Pisgah National Forest and Dupont State Forest. Click here for pricing!
If you are ready to bike without a guide, check out Bent Creek in Pisgah National Forest. Located right outside of Asheville, Bent Creek contains a collection of trails that range from beginner to intermediate levels. This is a great trail to go on with your family or a group of friends. A few steeper climbs and narrow sections make this trail enjoyable for more advanced riders as well.
Most of the trails along Bent Creek follow old roads or railroad beds that make for a really unique experience. There are a few areas with rocks, roots, and creek crossings that require more skills.
Tsali Recreation Area has been rated as one of the top 10 places to ride in the USA. It is located at the base of the Great Smoky Mountains with nearly 40 miles of trails in a system with four excellent loops. The trails at Tsali are extremely well designed and regularly used. The Tsali Recreation area trails are used for mountain biking and horseback riding. Two trails are focused entirely on mountain biking and so remain open to cyclists full-time, while some close temporarily to accommodate horseback riding on certain days.
Be aware that this area is very popular and crowded, but don't let that steer you away. These trails are popular for a reason and provide some of the most beautiful view overlooks of Fontana Lake with the Smoky Mountains on the other side.
Time To Ride
Now that you have a few different ideas of where to ride, it's time to get your gear together and get out there. If you don't yet own a bike you can go to a local bike shop and get fitted for the right size bike for you. (Yes, there are different sizes) Once you have your bike don't forget your helmet and to check these simple bike checks! See you on the trail!
Interested in more information about the Vista Communities? Click the banner below to request our free brochure.