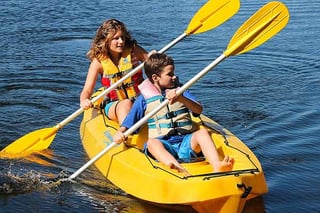 One thing we love about Western North Carolina (WNC) is that there are so many opportunities for adventure no matter what your outdoor interests are. If you love to hike, you already know that Western North Carolina will give you just the intensity you are looking for, but if you need a break from hiking, it might be time to give kayaking a try! WNC offers some of the best kayaking destinations around, so take a look:
An Unforgettable Experience in WNC
You can't beat experience — especially 40 years of it. Nantahala Outdoor Center has the most experiened whitewater guides, so you, your friends, and family can rest assured you're not only in good hands, but that you're in the best hands. Choose from a fully guided tour, eat lunch on your break, or dive straight into a half-day kayaking session.
---
Weekends In Bryson City, NC
About an hour drive from Hendersonville, Bryson City has some of the most popular kayaking destinations. Bryson City Outdoors surrounds Fontana's lake, the perfect place to paddleboard or kayak. It's not your ordinary lake, either, as you won't see any boats in this area. So don't worry if you have a beginner kayaker with you; you won't have any unexpected obstacles to maneuver!
---
Day Drives to Brevard, NC
Brevard county is only a hop, skip, and jump away from Hendersonville. Travel half an hour up the road and visit Headwaters Outfitters and choose your favorite route. If you're a rookie to the kayaking world, take it easy with a shorter route.
DuPont State Recreational Forest offers a 2-mile long lake for a brief kayaking session that's perfect if you're only sticking around for a day. Paddle upstream to a cozy beach area where you can dock your kayak, relax for a bit, and enjoy a swim. Canoes and pedal boats are also available for rent.
While you're in WNC, be sure to visit the third oldest river in the world. The French Broad River, which runs between the boarder of Tennessee and WNC, is a 200-mile waterway where you can kayak or canoe unitl your heart's content. Whatever outdoor activity you're looking for, this river can give you every water sport you fancy. Check it out and get the most out of your Saturday!
---
Interested In More?
Keep in mind these kayaking opportunities are just a drop in the bucket of what Western North Carolina has to offer. If you are looking for more adventures in this area, check out the list we've already created for you! If you're looking to move to this area, we've got you covered there, too! Click the banner below and contact Vista Developers today to make Western North Carolina your new home.