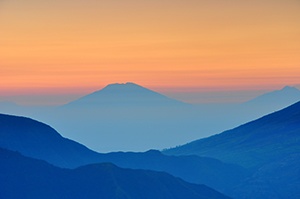 When you choose to build a home or to live in a Vista community, we want you to truly feel like you've come home. When you're looking into relocation, though, it can seem overwhelming just trying to learn where to start. If you're thinking about moving here to Western North Carolina, we have just a few things we'd like you to know first.
First, be ready for life to slow down a little. Especially for those moving from bustling cities like Atlanta, New York City, or Chicago, the slower pace of life in Western North Carolina can be a little bit of a shock. Even in a city like Asheville, people like their time. Expect a conversation to start with asking after your family, meander through topics far and wide, and end only when there's a good reason for it. People in Western North Carolina relish the ability to relax, slow down, and enjoy the day. We're hoping you'll join us.
If you weren't all about the great outdoors before, you will be once you live here. Our place in the Blue Ridge Mountains will show you some of the most breathtaking landscape views you've ever seen. Whether you're an avid hiker or cyclist, out for a round of golf, or think sitting outside on the porch sipping your morning coffee is as outdoorsy as you're likely to get, Western North Carolina will prove to you how beautiful the mountains can really be.
Our local shops will blow you away. One of the biggest draws here in Western North Carolina is the way we love our local business owners. Big-box retail and national chains have their uses, but here in the Blue Ridge we love the little guys. Our local shopping - from clothing boutiques to hardware stores, yoga studios to art galleries - are the thriving lifeline of our communities. You'll never be at a loss for something new to look at, experience, pick up for your new home, or fall in love with.
If you want to make friends, get involved in the community! One criticism we've heard before is that it can be hard to make friends in a region where many families have known each other for generations. We sympathize! We've found that the easiest fix is to get involved! Local community groups like The Blue Ridge Bicycle Club, the Asheville Arts Alliance, local churches of all stripes, and our local Boy Scouts and Girl Scouts chapters are all great options for getting out there to meet people! We're always thrilled to welcome our newest neighbors into our community!
We feel like these four pieces of advice will help you get a feel for what you'll have to look forward to here in Western North Carolina before your moving van ever pulls into your Vista communities home. When you choose to live in a Vista community, you're choosing a dream home in what we feel is the most beautiful place in the world. We may just be biased, though.
Interested in more information on living in a Vista community? Give us a call at (866) 519-2400 or contact us online today!