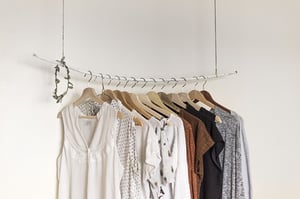 If you are planning on building your dream home or in the process of building a new home in Western North Carolina, you probably already have your kitchen, living room and master bedroom pictured perfectly in your head or posted on your Pinterest board.
But what about those areas in your home that are just as important that seem to be neglected during the designing process? Many homeowners tend to forget about their laundry and entryway or mudroom.
We have many ideas on how to upgrade your laundry room or mudroom to become more efficient, comfortable and even become an area of your home you want to spend time in.
Upgrading a Basic Mudroom Design
Mudrooms tend to become the "catch-all" of your home, you come home from work and drop all your bags at the front door just to pick them back up when you are running to work or school late the next morning.
If you spend a lot of time watching HGTV, chances are you have seen very efficient mudrooms that help to organize all of the daily essentials that you use or grab when you're coming and going. Here are our top ways to upgrade your basic mudroom design:
Built-in shelving — You can upgrade your mudroom organization by adding built-in shelves beneath a bench that can hold your shoes while the bench provides a seat to take your shoes on and off. You can also add coat hooks higher above the bench to hang your purses, book bags, and coats.
Natural light — Because mudrooms tend to be an afterthought, they are typically in a darker corner without any windows or natural light. This makes the space seem closed-in and not very inviting. Ask our design team to add in a small window or make sure there is an outlet for adding a lamp; this will make the space feel larger and more inviting.
A washing station — A washing station will help keep the debris and dirt from spreading throughout your home. Whether you have a 4-legged family member, kids who love to track the outside back inside, or you're an avid gardener, a washing station is a great addition to any mudroom.
Upgrading a Basic Laundry Room
Laundry can be one of the most daunting chores! Many of us tend to neglect our laundry room design because perhaps we don't want to be in there in the first place. Laundry rooms are normally small, dark, unpleasant spaces that don't have any space for you to fold and organize your clothing when it comes out of the dryer.
Here are a few easy fixes to make your laundry room a place that you can actually do laundry in.
Counter space — No laundry room should be without counter space. You need it so that you can fold your laundry as soon as the dryer sings the "I'm finished" song. If you don't have room for a full countertop, you can cut and stain a piece of wood to put on top of your washer and dryer as a makeshift countertop.
Cabinets — Don't use the top of your dryer as a place to pile up all of your needed laundry supplies. Instead, add cabinets above your washer and dryer to hold all of these essentials.
Add fun to your room — Since this is a room that is commonly ignored during a custom home design, the paint colors tend to be either a basic egg wash color or whatever else you happen to have on hand. Pick out calm, cool colors and add a pop of color with a backsplash or add in organizational pieces to brighten up your space. If you are able to add a window, that is even better!
Many of these laundry and mudroom upgrades are affordable and easy to DIY. Share with us some of your favorite inspiration boards for upgrading your laundry and mudrooms. We'd love to see how you transform your space!
If you're still in the planning stages of building your dream home, we here at Vista Developers would love to help you find the perfect community in Western North Carolina!