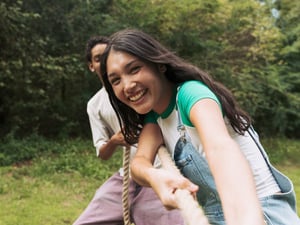 In the Blue Ridge Mountains, the beautiful scenery and ideal weather make for endless outdoor adventures. We at Vista Developers believe that all aspects of mountain living in Western North Carolina can bring joy to those who live in it and want to experience it more. With all this natural beauty, it makes sense that so many summer camps in this region are second to none.
It's a summertime tradition to send kids of all ages away to a summer camp to grow their social skills, build self-confidence, and learn useful skills. Our comprehensive list features all of the best summer camps for teens and kids, with both co-ed and gender-exclusive options. Even better, these camps are all located within the Greater Hendersonville, NC area (including Flat Rock and Zirconia).
Let's go explore all the fun summer camps that you can pick from this summer!
Fun for Everyone
Before we truly start our summer camp-exclusive list, we wanted to offer a fun place for the whole family to enjoy. No matter your age, you can be sure to enjoy the Asheville Treetops Adventure Park - Adventure Center of Asheville, unless you have a fear of heights! This adventure park features 7 different aerial paths that take you through the treetops of North Carolina. They offer varied difficulty levels for everyone, including those that may want to be up 40-50 feet in the air!
Read More >> 4 Family-Friendly Events to Do This Summer in Hendersonville, NC
Why Summer Camps Are the Best Activity for Kids
Summer camps can be a very necessary experience for kids to go through. These camps provide an enriching experience that can offer them newfound skills and long-lasting friendships. They're a great way to build independence in your children or grandchildren because while they have guides, they are still allowed to make their own decisions and create friendships with people from all backgrounds. These summer camps for teens are great in helping them decide who they will grow to be.

Spend at least one week or two in the summer letting your kids experience the beauty of the outdoors and all they can learn from the leadership-building activities at a summer camp. In Western North Carolina, you can be sure it'll be a summer filled with endless possibilities and cherished memories for all.
The Best Summer Camps for Teens and Kids
Co-Ed Summer Camps

Camp Wayfarer - Starting this list is Camp Wayfarer, a camp that inspires campers to find their own path. With over 30 activities, campers can pick the activities that speak to them! The schedule is jam-packed and allows up to 5 activities daily for new exciting adventures. This camp is perfect for boys and girls ages 5-16.

Camp Tekoa - Camp Tekoa is known for having a spot for everyone. This place offers sleep-away camps, day camps, adventure camps, and special needs accommodating camps. They have two campsites, one in Hendersonville and the other in Casar, NC. Their mission: "Touching hearts, changing lives, sharing the light of Christ."
Camp Pinnacle - Located in Flat Rock, NC, this camp offers 2-week and 4-week sessions geared toward ages 7-16 from all over the country who need an escape from the mundane. They offer 50 unique activities that are bound to have your children experiencing something new.

Girls-Only Summer Camps
Camp Greystone - First on our list of girls-only summer camps is Camp Greystone. This camp features a lot of freedom for girls to choose their schedules, make their own friends, and live with girls of all backgrounds. They offer many activities, but one of their highlights is DMC (Deep Meaningful Conversations), where the girls really get to bond with each other.

Camp Green Cove - Founded in 1945, Camp Green Cove is a traditional summer camp for girls ages 6-17. They aim to build self-esteem in the girls while teaching community living practices, respect for the environment, and a love for the outdoors. Campers have the option to spend part of their time out in the wilderness on trips if they wish.

Camp Ton-a-Wandah - At Camp Ton-a-Wandah, there are 365 acres of mountainous terrain to enjoy and their very own 10-acre lake. For girls ages 5-16, this camp should be the perfect getaway to build new friendships and grow character. They believe in building girls up to become women as leaders worldwide.

Boys-Only Summer Camps
Camp Mondamin - As the only camp on this list for boys only, fear not. There are many other boys-only camps out there. This one was just our favorite one. This camp is the boys-only version of Camp Green Cove. It offers camping opportunities for ages 6-17. They focus heavily on outdoor activities like hiking, kayaking, rock climbing, and much more!
Explore all that Western NC has to offer.
Building a home in Western North Carolina offers a unique living experience with its adventures awaiting and majestic scenery. In WNC, the beauty of nature is all around you.
If you want to build your dream home in Western North Carolina, we'd love for you to consider us here at Vista Developers. We're a local custom home builder based in Hendersonville, NC. Our goal is to help you build a new life in WNC's breathtaking Blue Ridge Mountains.
To get started, call us at (866) 519-2400 or contact us online. You can even click the banner below to request a consultation!