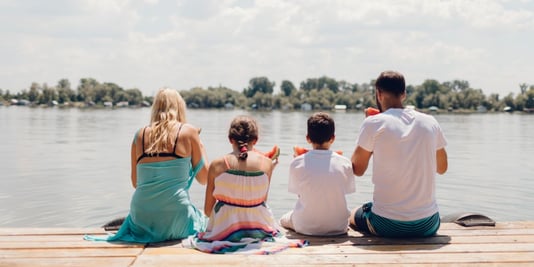 Summer break has arrived, school is out, and your kids are itching for excitement. Before they turn your home into a jungle gym, you might want to google "things to do with kids near me".
The good news is that if you're living in or near the Hendersonville area of North Carolina, you can look no further! We've got you covered with a fantastic lineup of summer activities for kids that will get the whole family out and about.
These ideas guarantee an absolute thrill for both the young ones and those who are young at heart!
Head up to Chimney Rock State Park for several fun family activities!
One of the things our residents love most is the gorgeous landscapes that surround us here in the Blue Ridge Mountains. Chimney Rock State Park contains a variety of hiking trails for nature enthusiasts of all ages and hosts a series of great outdoor activities this summer:
Need to send your kids to summer camp? Check these out >> Summer Camps for Teens and Kids

Seek educational entertainment in Hendersonville's museums
Looking for things to do with kids on rainy days? Museums are an ideal solution for fun family activities when you can't hang out outdoors, and Hendersonville offers an abundance of them.
Hands On!, a children's museum on N. Main Street in Hendersonville, is designed and dedicated to the simple truth that children learn best by having a great time. Exhibits are designed to entertain and educate kids of all ages (and you may even find yourself learning a thing or two!) Check out the interactive "grocery store", Lego Raceway, costume & puppet theater, and more.
The Appalachian Pinball Museum is an absolute blast for kids and adults alike. In the heart of downtown Hendersonville, you can enjoy over 80 pinball machines and video arcade games for $12 only. With some old machines that will take you back in time, parents can share their pastime memories with their kids…
The Apple Valley Model Railroad Club is the largest model railroad in Western North Carolina. In addition to showcasing artifacts from real railroads, young engineers can enjoy Thomas the Tank train layout too. The museum has free admission but is open only two days a week.
Discover the treasures at Elijah Mountain Gem Mine
Elijah Mountain Gem Mine is consistently ranked as one of the best kid-friendly activities in Hendersonville. We can see why. Your little ones will be able to mine their own gems, enjoy time with other children, and the Rock Shop will keep everyone entertained for long after you're finished. Not only is there a chance of finding rubies, sapphires, or other precious gems — you may even find real North Carolina gold!
Get the energy out at The Park at Flat Rock
A fantastic destination for parents seeking exciting outdoors for their little ones and their furry friends as well. The park offers green spaces, walking trails, shaded picnic areas, lakes, and two playgrounds spread across 66 acres of unlimited fun. With vast space for both energetic play and peaceful relaxation, The Park at Flat Rock ensures a delightful experience for the whole family. The park is open from dawn until dusk, seven days a week.
Bonus: Get the show on the rod
Summer through the early fall is the ideal fishing time in North Carolina, with most fish getting active when the water gets warmer. Western North Carolina has become a popular trout fishing hub due to its over 3,000 miles of rivers, lakes, and streams that are open to the public. Some fishing campgrounds, like the North Mills River, are great for fun family activities.
Explore More >> The Best Place to Cast a Line Near Hendersonville, NC
Experience the beauty and fun of Western NC
Whether you've lived in North Carolina for a long time or you've only just begun to experience the Blue Ridge Mountains, the Vista communities are right for you. Our homes, built to make the most of the gorgeous landscapes and moderate climate here in Western North Carolina, are available for families of all sizes.
We'd love to welcome you home to Western North Carolina. Give us a call at (866) 519-2400 or contact us online at any time.