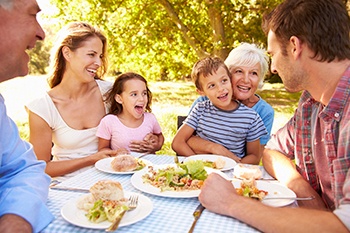 When the kids are out of school for the summer, it can be tough to find fun activities to keep them busy (and keep them from climbing the walls at home). If you're living in or near the Hendersonville area of North Carolina, we have a few ideas for summer events and activities that will help you get the whole family out and about. Our ideas are fun for the young — and the young at heart!
Visit the Carl Sandburg home — a perennial favorite right next door. If you haven't been to visit Carl Sandburg's home in nearby Flat Rock, you're missing out. Guided tours of the famous poet's residence (and amazing book collection, carefully preserved as his daughter had originally organized it) are available for a small fee, or enjoy a walk on a nature trail around a beautiful pond, meet some of Mrs. Sandburg's famous dairy goats, and enjoy the outdoors! With this being the 100th anniversary of the National Parks System, check here to see what days you can get your guided tour free! Head up to the house on July 23rd for Jump Into The Park! It's a day designed for family fun, including activity stations and other fun events from 10 am to 3 pm.
Head up to Chimney Rock State Park for their monthlong Animal Encounters series! One of the things our residents love most is the gorgeous landscapes that surround us here in the Blue Ridge Mountains. Chimney Rock State Park, which contains easy-to-moderate and moderate-to-strenuous hikes for outdoor enthusiasts of all ages, is hosting a great series this summer that will help you get your young ones out and enjoying the mountains! Their Animal Encounters series, which runs through the month of June, is included with park admission. Your little ones can meet real local mountain animals, such as owls, hawks, and groundhogs. You can learn more about this event here.
Visit Hands On! and watch your little ones learn while they play. Hands On!, a childrens' museum located right on N. Main Street in Hendersonville, is a museum designed and dedicated to the simple truth that children learn best by having a great time. Exhibits are designed to entertain and educate kids of all ages (and you may find yourself learning a thing or two!) Check out the interactive "grocery store", Lego Raceway, costume & puppet theater, and more! Find out information about hours and admission here.
Elijah Mountain Gem Mine is consistently ranked as one of the best places to take kids in Hendersonville. We can see why. Your little ones will be able to mine their own gems, enjoy time with other children, and the Rock Shop will keep everyone entertained for long after you're finished. Not only is there a chance of finding rubies, sapphires, or other precious gems — you may even find real North Carolina gold! A great idea for kids who really need to get out of the house for some fun!
Whether you've lived in North Carolina for a long time or you've only just begun to experience the Blue Ridge Mountains, the Vista communities are right for you. Our homes, built to make the most of the gorgeous landscapes and moderate climate here in Western North Carolina, are available for families of all sizes. We'd love to welcome you home to Western North Carolina. Give us a call at (866) 519-2400 or contact us online at any time.