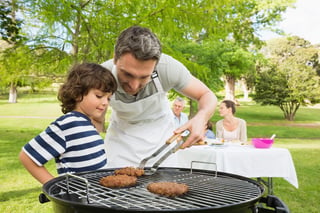 Does your dad spend more of his Summer near the heat of the grill than cooling off in the pool? Once the chill of Winter gives way to the warm breeze of Spring, does your husband insist you only refer to him as the grillmaster until Fall rolls back around? Do all of your grandfather's stories take place at barbecues he's had in the past?
Help the fathers in your life enjoy their favorite activities with Father's Day gifts that they'll get to enjoy all grilling season long!
We know that men are notoriously difficult to shop for, so we've done all the work for you and compiled our favorite grillmaster must-haves.
Let's get started!
Wireless Meat Thermometer
Take the guesswork out of grilling with a wireless meat thermometer. The Weber iGrill Mini digital bluetooth thermometer monitors your food from beginning to end and notifies you once your food has reached the perfect temperature. To get the notification, make sure to download the app to your phone.
Buy: $49.99 on Target.com
---
Grilling basket
Take a break from burgers with this sturdy stainless steel grilling basket. Perfect for chicken, fish, veggies, and more, this grill basket's flexible design is exactly what pops needs for flame-kissed foods that need a little extra TLC.
Buy: $34.99 on Weber.com
---
Shark Corn Holders
These fun corn skewers are perfect for the guy who already has it all. With sturdy stainless steel prongs and comfortable handles that provide a secure grip, these are sure to be the hit of the cookout! Plus, the kids will love them!
Buy: $13 for a set of 4 on Amazon.com
---
Grill Brush
The first step to serving perfectly-grilled food is starting with a clean grill. Williams-Sonoma offers a grill brush that scrubs and steams your grill for surface so clean you'll never have to worry about getting last night's steak on tonight's chicken again. Plus, it's easy to use! Just fill it with water and start cleaning once you've turned the grill on.
Buy: $52 on Williams-Sonoma.com
Or if you have it in the budget, you can get a grill cleaning robot for $129.99 from sharperimage.com
---
Custom Apron
Personalized aprons aren't just for women. Spice up your grillmaster's wardrobe—while saving it from barbecue sauce, ketchup, and baked beans—with a fun custom apron that'll make him the star of the backyard BBQ. Etsy has lots of different options, or you can even send in your own custom artwork! Don't have time to order a custom one? Head to a local embroidery shop to see if they can squeeze you in before dad's big day!
---
We hope these suggestions help you get the best gift for the best dad in your life. If you're thinking about making this Father's Day one he'll never forget, bring him to Western North Carolina and explore all the hiking, kayaking, golfing, fishing, and more the Blue Ridge Mountains have to offer!
If you enjoyed this article, please check out other posts on our blog and join us on Facebook, Twitter, LinkedIn, Google+, and Pinterest to see how Vista Developers can help you call the Blue Ridge Mountains home.