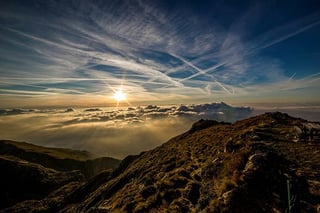 Whether you find yourself scheduling your weekends around outdoor adventures, or you describe yourself as more of an indoorsy type, Western NC has the perfect outdoor activity for you — if you know where to look. In this part of the Eastern region you may just learn that you actually enjoy an activity you never thought you would. Here you can enjoy an afternoon picnic, a great swim, fly fishing, paddleboarding, intense hikes, and leisurely strolls all in one beautiful area. Let's take a quick look at what all WNC has to offer:
On The Rocks
Enjoy beautiful trails and scenery in Western North Carolina at Chimney Rock State Park or Hanging Rock; both of these attractions have miles of hiking trails, beautiful scenery to enjoy at the overlook areas, and picnic spots for when it's time to enjoy food, camaraderie, and nature. Not quite sure you want to limit your stay to only a couple of hours? Be sure to check into Hanging Rocks' vacation cabin area for longer visits.
If you're looking for a more family-friendly spot, then Chimney Rock is the destination for you! There are six trails to choose from so you can take the laid back routes for your kids' enjoyment, or you can go as strenuous as you need for that Saturday workout, and everything in between. You can find the entire list of trails here.
Escalation is fun
Here's a fun family adventure...try zip lining! There's no better place in WNC to bring out character in all family members than at Asheville Treetops Adventure Parks. Situated right outside of downtown Asheville, you can zip your way through the nature trails of WNC — some of which that are over 150 years old. From the mountain tops to the city streets of Asheville, you are sure to get your money's worth with zip lining.
Choose to "warm-up" with the easy zip lines, and work your way to the thrill of the day: the 1,200' long zip line (no worries, you are allowed to fly with a friend). If you are short of time be sure to check out the Express Canopy Tour, a much shorter, yet just as thrilling, zip line ride.
Rafting Through the Waters
Recommended as the number 1 whitewater rafting company on Trip Advisor, Nantahala Rafting is proud to be settled in Western NC! Adventurous Fast Rivers Rafting brings you miles of fun and exciting Class II and III rapids on the Nantahala River. It doesn't matter if you're a hardcore whitewater veteran, or a beginner rookie who has never rafted before. Your whitewater rafting experience can be a family outing or a high performance adventure; it's your choice, so make sure you get the experience you're looking for! Don't overlook the discounts, group rates, and photography rates Adventurous Fast Rivers offers.
While there's so much to do in Western NC, these three adventures are some of the best in this area. If these don't suit you, however, we have plenty more to offer. Check out the attractions of Western North Carolina here, and let us know what your favorite spot is.
It doesn't matter if you're a North Carolina native or you just started experiencing the Blue Ridge, the Vista communities are here for your every need. Our modern homes fit to match the beautiful landscaping of the nature surrounding them, and are comfortable for all family sizes. We would love to be the reason you make Western North Carolina your new home. Give us a call at (866) 519-2400 or contact us online at any time.