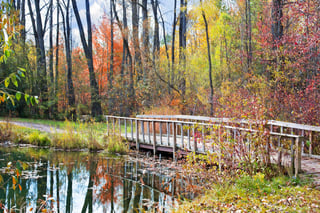 One of the biggest compliments we hear in regards to the Hendersonville, NC area is how enjoyable it is to live in year-around. Activities to get your family out there and enjoy the weather for all seasons are endless— and we believe that too! Whether you've just moved here or you've been a life-long resident, we want you to make sure you have a reason to enjoy, embrace, and entangle yourself and your family in the fresh, cool weather this fall.
Jackson Park & The Oklawaha Greenway
Located minutes from downtown Hendersonville, this greenway allows you to enjoy a bike ride, walk or run on over 3.5 miles of beautiful scenery. Furthermore, this area is a direct link to the Jackson Park's golf course and various ball fields near Berkeley Park, so if you're in for an adventure or active afternoon with the family, then this is definitely where you want to be.
Bearwallow Mountain (Hendersonville)
Be aware that the hike up and back to Bearwallow Mountain is a strenuous two-mile trip with more than 500 feet in elevation gain. However, you'll be in a beautiful, scenic view of areas like Hickory Nut Gorge, Chimney Rock, Lake Lure and downtown Hendersonville. If you look closely, you'll get to see the peaks of Mount Mitchell, Mount Pisgah and the Great Balsams Range, which always gives you a breathtaking view, no matter how many times you might have seen it beforehand.
Sierra Nevada
A huge advantage to the WNC area is how close we are to one of the most famous breweries on the east coast. When you visit Sierra Nevada, you come for a visit that's hard to beat. Get here early to see the brewery's outdoor grounds, including features like solar "trees," rain and stormwater management systems, and the water treatment facility. Join a tour— they fill up quickly so make your reservations online today, or take a solo tour if you're not into a group tour. Additional hiking trails are available outside, as well as a boat landing area.
Enjoy 365 Days of Adventure With Vista!
Here at Vista Developers, we truly want you to make your stay with us an memorable one— from the time you walk into your brand new home and for the many years you live in it, which is why we care so much about our community. If you're looking to build a home nestled in the mountainous region of Hendersonville, Vista Developers is here to help you get started and show you the best parts of the area all year long! Give us a call at (866) 519-2400 or contact us online so we can answer your every need. Discover more about what we offer by clicking the banner below to download our brochure!