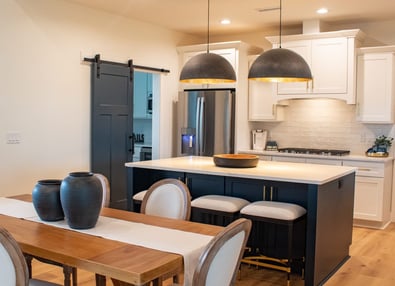 As the year is coming to a close and 2023 is rushing up toward us, we all are looking for a change. It could be a change in our work/life balances, health goals, or even in how we decorate our homes. You may feel the desire for a fresh start in your home. If so, we've got you covered! Here are some predicted interior design trends for 2023.
Keep in mind, trends can be a guideline to make your home feel revitalized. But these trends shouldn't be the end-all for your personal home design. Adopt what you like and disregard what you don't.
Having a home to yourself is all about making it your own. So go out there and decorate for the new year!
Interior Design Trends for the New Year:
Bright Accent Colors:
Pantone recently revealed the Color of the Year for 2023 to be "Viva Magenta", a stunning and saturated hue that bridges the gap between purple and red. This color is bold and meant to be used strategically in accent uses, rather than to overpower a whole home. While that may not be the optimal color in your home design, you can opt-out of Viva Magenta. Instead, utilize a different accent color (maybe a favorite color of yours) in your home to make it more unique and special for you.
Antique Furniture:
It's true, what's old is new. Modernity features lots of neutral tones and minimalistic features, leading to an environment that can look almost sterile. Bringing items from other eras into your interior home decor is a great way to spark style and uniqueness in your space. If you hate the idea of bringing antique furniture into your home, opt for other items that you can add to your walls.
Warm-Toned Textures:
Modern styles don't only feature very limited and subtle color palettes, but they can also lack volume or textures. Lots of flat or smooth surfaces can leave a home feeling like it is too perfect to be messed with or used. Thick textures throw blankets, funky ceramic decor, or even furniture help give a personalized feel to a home. Opting for warm-toned items will make your home feel like a cozier and safer place to relax.
Indoor Plants:
Over the past couple of years, homes have seen a surge in indoor plants. While you don't have to opt for real ones, real or artificial plants can liven up a home and make it feel cozier and fresher. If you're brave enough to invest in real plants, pick ones that you think you can care for with minimal effort. Many make the mistake of only buying the prettiest plants, which tend to require lots of attention and special care.
Many popular indoor plant varieties that are easy to care for but still make your space look amazing include:
Pothos - These come in wide beautiful varieties and are fast growers. (Water once a week)
Snake Plant - Also referred to as Mother-In-Law's Tongue, these require very little water but can grow very large over the years. (Water once a month)
ZZ Plant - If you kill everything, and we mean everything, this plant is for you. It does well in all types of lighting and also requires very minimal water. (Water once a month)
Rubber Plant - These are great for purifying the air in indoor spaces and can grow very large. They do require more light than the other plants mentioned, although not full sun. (Water twice a month)
Make it Your Own
We wanted to provide you with all the new trends happening in 2023, but at the same time, we want you to make your home feel like your own. Use these tips to guide you, but also don't be afraid to experiment. Pull inspiration from wherever you are, whether it's from distant travel or a next-door neighbor's home. Go and make your home your own!
At Vista Developers, we truly want you to make your home unique to you, which is why we care so much about our communities. If you've chosen to build your dream home in WNC, we'd love for you to consider us here at Vista Developers. We have many open lots in our Bill's Mountain community, but we also service to build on property that you own too!
Our goal in the Hendersonville area is to bring inspired community concepts to those seeking to reside in Western North Carolina. Give us a call at (866) 519-2400 or contact us online so we can help you get started in building your perfect home.
Discover more about what we offer by clicking the banner below to view our different floor plans!