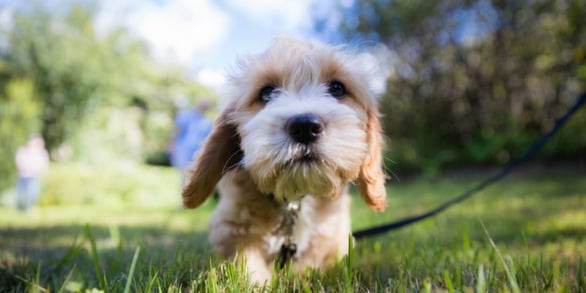 When moving into a new home or picking a lot for your custom build, we usually fantasize about our big front porch or visualize where we are going to put the swing set for the kids in the backyard. But what about our four-legged family members?
Dog owners often dream about their dogs happily roaming in the backyard. Yet, creating dog-friendly landscaping requires careful consideration. The key is to provide your pet with amenities that he or she loves while prioritizing their safety. With thoughtful planning, you can achieve this goal and even increase your home's value through an appealing landscape design.
To kick-start your journey, check out five dog friendly landscaping ideas that guarantee a safe and joyful experience for your furry friends.
Add a Flowing Water Source
It is important to ensure that your dog has access to fresh, clean water, particularly during the hot summers in Western North Carolina. You can take advantage of this by incorporating a water feature into your backyard. However, regardless of the water source you choose, it is critical to provide accessible exits for your dog in case they enter the water accidentally. Two effective solutions are to install shallow steps or gently sloping sides in the pool.
Our experience shows that fountains and small streams are suitable for smaller yards. Larger yards can make the most of the space by building a pond or pool.
Looking for more backyard landscaping ideas? Review our early spring checklist for your backyard.
Provide Shade and Shelter
Speaking of hot summers, it's important to keep in mind that even though we may enjoy sunbathing from time to time, our pets can also experience dehydration and sunburns if they are exposed to the sun for extended periods of time. This makes it crucial to ensure that they have access to enough shade and shelter to keep them protected.
There are various options to create shaded areas in your backyard. Planting large trees or a cluster of trees can provide natural shade. Alternatively, you can consider treating your pet with a dog house or installing a pergola or other covering that extends over a portion of your yard. These options allow both you and your dog to relax, cool down, and enjoy outdoor activities without excessive sun exposure.
Install a Fence
Fences are another dog-friendly landscape idea that is also favorable for homeowners.
A dog-friendly fence grants your dog a secure area to freely run around, without the option of running away. Moreover, it prevents the intrusion of unfamiliar dogs into your yard. For homeowners, a fenced backyard enhances privacy, ultimately contributing to increased home value.
When constructing your fence, you can select either an invisible electric fence or a traditional on-the-ground fence. The latter is particularly suitable for smaller yards as they create an illusion of a more spacious environment. For the safety of your furry friend, it is crucial to ensure that this type of fence is of sufficient height and free from any sharp edges.
Ensure a Toxin-Free Landscape
It is important to be mindful of potential risks to your dogs when landscaping your backyard. Certain materials, fertilizers, and plants can be hazardous. To ensure the safety of your furry friends, here's an overview of the recommended do's and don'ts:
| | | |
| --- | --- | --- |
| | Do's | Don'ts |
| Flowers and Plants | Snapdragons, Marigold, Cilantro, Sage, Sunflowers, Tiger Lilies, Zinnia, Lavender, Rosemary | Azaleas, Chrysanthemum, Dahlia, Iris, Foxglove, Lily of the Valley, Peony, Begonia, Hydrangea |
| Ground Cover | Cedar mulch, wood chips, synthetic turf, concrete, brick, pebbles and smooth rocks | Cocoa bean mulch, materials that contain Theobromine, and other materials that get too hot or cling to your pet's fur or feet |
Prior to taking any action, it is advisable to consult with your vet.
Designated Space for Play
After addressing all the safety considerations in your dog friendly landscaping, it's time to prioritize the element of fun! This is the perfect opportunity to unleash your dog's energy and let them indulge in enjoyable activities. Create designated play areas, such as a sandbox, an obstacle course, or a spacious and cozy outdoor couch.
When dogs become bored, they tend to seek out trouble. Giving them a designated area to move around and have fun can minimize the chances of them getting into trouble. This will protect the rest of your garden.
We hope these dog friendly landscaping ideas will help you provide your pet with a safe, fun backyard space . If you don't have a backyard just yet, let us help you find your next home. Give Vista Developers a call at (866) 519-2400 or
click the banner below
to learn about the beautiful mountain home sites we have available.