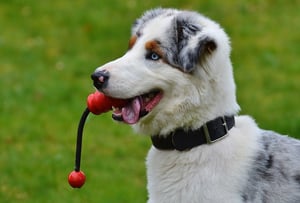 When moving into a new home or picking a lot for your custom build, we usually fantasize about our big front porch or visualize where we are going to put the swing set for the kids in the backyard. But what about our four-legged family members?
Most dog owners dream about their dogs happily roaming in the backyard, but how can you ensure that happens? Take the time to make sure your new yard provides your pet with the amenities he or she loves and needs.
Here are some great tips on how to design a dog-friendly landscape:
Flowing Water
It's essential to provide your dog with fresh, clean water in order for them to stay safe and healthy. You can take this as an opportunity to add a water feature to your backyard. Fountains or small streams are ideal for smaller yards.
If you live on a larger lot, building a small pond or pool is another option. Make sure to keep your dog's safety in mind and provide them with easy access out in case they fall in. Shallow steps or a gently sloping side to the pool work great.
Provide Shade and Shelter
Does your furry loved one stay outside for a good portion of the day? Dogs can suffer from a heatstroke or sunburn, which means it's important to provide ample shade and shelter. A large tree or group of trees can provide shade, but if you don't have any trees, invest in a shade cloth that can stretch over a portion of your yard.
Another way of offering shade and protection is to provide your pet with a doghouse. You can find doghouses at your local pet store or you can always shop online!
Toxin Free Landscape
Did you know that some common plants are extremely dangerous for dogs to eat? Azaleas, lilies and mums are a few examples of plants that can harm your pet. Check with your vet or visit ASPCA for a list of a plants that can irritate or even kill your pet.
Another thing to be cautious of is your landscape materials. Mulch is a great tool for your garden, but stay clear of cocoa mulch. If consumed by your pet, it can cause the same negative reaction as chocolate. Be careful that your landscaping materials are items that don't get too hot, are easy to walk on, and do not cling to your pet's fur or feet. Concrete, brick, pebbles and smooth rocks are all good choices.
Dedicated Space for Play
Bored dogs look for trouble; dogs behave best when tired. Make sure to provide your pet with a place to run and chase, and you will have far fewer problems with them getting into things they shouldn't. If you have the space, add some paths into their play area. Dogs love to explore and patrol.
We hope these tips will help you provide your pet with a safe, fun backyard space . If you don't have a backyard just yet, let us help you find your next home. Give Vista Developers a call at (866) 519-2400 or contact us online to learn about the beautiful mountain home sites we have available.