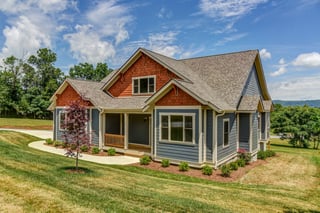 Have you always dreamed of building a home from scratch? Choosing all of your custom features and creating your own layout? Of course! We all have dreamed of our perfect forever home.
The hardest part is figuring out where to actually start. A common question that we hear is whether or not you need to purchase land before you start working with a home builder. There isn't really a right answer to this question, but having your land ahead of time can be at a great advantage.
Let's examine the two options and determine which one is right for you:
Buying Land Prior to Hiring A Custom Home Builder
When you are thinking of building, what is the first thing that comes to your mind? Many of our clients would answer location. Location is primarily the top priority for homeowners.
With all the beautiful green spaces in Western North Carolina, it's not uncommon for potential homeowners to come across a great deal on land in the perfect location long before they're really ready to build. If this happens to you, you would want to secure the lot by either paying cash or purchasing it with a lot or land loan.
If you are able to purchase your property prior to hiring your builder, you'll enjoy bringing your builder to the site to walk around and tell them what you've dreamed up of the space.
This helps the builder envision what you truly want and will help to personalize the custom home design they'll be working on with you.
Hiring a Custom Home Builder Prior to Securing Your Lot
The main perk of hiring your builder prior to securing a lot? It's often more cost-effective. Your contractor can provide you with options for lots that they have already configured costs on and what work will need to be done prior to building. This helps give you a better idea on what a custom home will cost you.
The only con of this option is the lot may not end up being exactly what you are looking for, but you will have better control over the cost of the project.
Build With Vista Developers
At, Vista Developers we work with our clients on selecting a lot in one of our beautiful, mountainside communities and from there we help make their dreams come true. If you are looking to relocate or build in the Hendersonville and Lake Lure, North Carolina area contact us today by clicking the banner below or call (866) 519-2400.