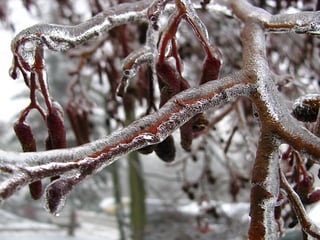 It may be only the first week of October but the days are getting shorter, the leaves are changing colors, and Christmas decorations are already finding their way onto the shelves of all the department stores. That's right — fall is here!
These beautiful October days provide the perfect setting for checking off those fall home maintenance tasks that prepare your home for the coming winter. We've put together a Fall Checklist to help you stay on top of home maintenance tasks that you may have just been too busy to think about.

Check Your Smoke Detector and Carbon Monoxide Detector
We recommend checking your home's detectors once every change of season to ensure your detectors are working properly and have plently of battery life.
Clean Out Your Gutters
All the leaves and grime that you neglected while you were out swimming, hiking, or riding your bicycle this summer has built up in your gutters. Now that the leaves are falling they can clog up your gutters and downspouts even more. If we endure a lot of rainfall this year, the raindrops will only have one place to sit — your roof. Help protect your home from major roof repairs and clean your gutters out at least twice a year.
Have Your Fireplace & Chimney Cleaned
Now is the perfect time to clean out all of the used ashes and stock up on wood for this year's Winter season. We recommend a cleaning before use every year. This way, you won't deal with soot buildup that creates unpleasant smells or keeps your fireplace from doing its job.
Properly Store Yard Equipment
It's now time to scrub down all your patio furniture and either cover it, or store it away. If you love to cook, your grill might need a good cleaning as well. Drain gasoline out of your mower, roll up and detach your garden hose from the spigot, and store all your yard equipment in your garage or your designated clean, dry location. Trust us, you don't want to wait until it's 30 below and your hose is frozen solid.
Check The Wear On Your Weather-Stripping
The weather-stripping around your doors and garage doors can wear away or fall apart, letting cold drafts in and forcing your heating system to work even harder. Gaps in caulk and weather-stripping can account for 10% of your heating bills, according to the U.S. Department of Energy.
Have Winter Tools Handy
Snow and ice is just around the corner for Western NC. It's important to pick up the winter essentials so you don't find yourself scrambling to make it to the store to buy them after you're iced in. Rock salt, windshield scrapers, tire chains and snow shovels are some of the main winter tools to keep at your home and in your car.
Taking these easy steps will help you prepare for the chilly weather ahead, allowing you to relax when the cold weather really hits. Vista Developers builds custom mountain homes in Western North Carolina. We work with your needs from those first designs through move-in day and beyond.
Interested in learning more? We'd love to hear from you! Give us a call at (866) 519-2400 or contact us online today!