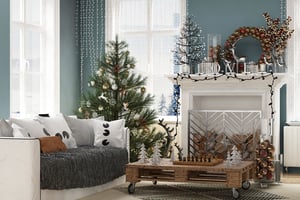 While you may be enjoying everything Western North Carolina has to offer, you may also just want to relax in your home and observe the cold weather from inside! Make your home a winter headquarter by keeping your home stylish and cozy until the warmer months arrive. Here are some winter home décor ideas:
Use Soft and Cozy Fabrics
Who doesn't want to be cozy in the winter? Combat the cold and wet by making your home a bastion of warmth and comfort by taking all your soft throws, big and fluffy blankets and heavy curtains out storage and soften the ambiance of your home. Use ample pillows and cushions to create cozy spaces to cuddle and relax.
Winter Wreaths After the Holidays
Don't say good-bye to wreaths after you take down the traditional Christmas wreath off your front door. Keep the door stylish by displaying a Winter wreath like snowflake or mitten themed wreaths, or decorate using an evergreen or other woodland themes. This gives a simple and rustic feel for the cold weather.
Create a Cozy Space in Front of the Fireplace
In the cold winter months, create cozy nooks in the rooms where you relax the most. Cozy up in front of the fireplace by creating a cozy sitting area. Get a couch, a love seat or a comfy set of armchairs. Add a coffee table and you are ready. Try something different and arrange your fireplace supplies and tools in a decorative manner. Neatly store your firewood in a large basket next to the fireplace. Instead of placing kindling sticks outside or on top of a pile of logs, arrange them vertically in a large vase or basket. Light candles as a final touch for a romantic vibe.
Add Area Rugs and Carpets
Keep your feet warm and prevent cold floors by placing area rugs and carpets throughout the house: at the foot of your bed, in the dining room, or wherever you hang out. It's much more pleasant and gives your home a warm and inviting look.
Use Natural Accents
Wood, stone, leaves, floral arrangements, and pine cones are great for decorating rooms in the Winter. Bunch them together with twine or ribbon and place them in a basket or arrange them as a natural centerpiece on your dining room table. Mantels are great for this feature as well. Select a combination of pine cones, leaves and other natural elements and set them inside glass containers. Use empty wine bottles as vases or even candle holders or use old apothecary jars for smaller pieces.
Decorative Pillows
Be both cozy and stylish by using decorative pillows in all the cozy spaces in your home where you sit and relax. It's amazing how they can change the room even if you don't end up doing anything major to the room. Use pillows with winter patterns and accentuate those patterns with other winter ornaments spread across the room.
Winter Dining Room
Bring the best winter decorations to your dining room table. Drape a white table cloth over your table, then use white plates, candles, napkins wrapped in silver ribbon, as well as pine cones and other additions like artificial snow to create a winter dining experience.
Bedroom
Don't forget about your bedroom! Use the same strategies to make your bedroom a more cozy, restful space. Use white pillows, white bed covers along with a small Christmas tree in the corner. In addition choose modern lighting for nightstands and ceilings. Add a fluffy white rug and settle in for a long, winter's nap.
A Gold Finish
Gold can also be an accentuating color for your winter home décor. It is both elegant and charming. Use ornaments with a golden hue, candles and plates with gold highlights, then combine them with your other white pillows, blankets and accessories and your home will be both cozy, comfy and elegant. Enjoy the rest of the season with these winter décor tips!
Looking for a place in Western NC that you can call home? Work with us to build your very own custom home, or explore our pre-built options! Click the banner below to get started!