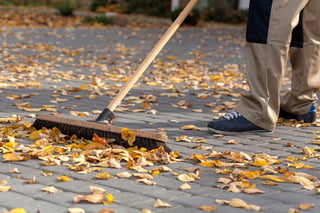 The best way to make sure that your yard is an eye-catcher this spring is to take time to handle a few maintenance items this fall.
Many homeowners make the same mistakes year after year by not taken care of all fall maintenance before grass goes dormant, and then they wonder why their yard seems dull and lifeless come spring.
Take on the following maintenance tips to prepare for a blooming lawn this upcoming spring:
Remove The Leaves
The leaves are falling! While they are a lot of fun for the young (and young-at-heart) to jump in, they aren't creating a healthy growing environment for your grass. Leaves trap in moisture and block sunlight for the turf underneath.
When leaves start to fall, it's important to blow or rake them up as soon as you can. Once your trees are bare, make sure to go and check the corners where the wind piles up leaves and remove them... or come spring you may find a soggy mud-soaked patch of dirt where your lawn should be.
Cut To The Correct Height
Grass will continue to grow until the year's first frost. The ideal height for your grass is from 2 1/2 inches to 3 inches. If you leave your grass too long it will be susceptible to winter's fungi and bacteria like snow mold. On the other hand, keeping your grass too short can be just as bad. The root depth is proportional to the cutting height, which controls its ability to withstand the cold and dryness of winter.
Don't Forget To Water
Obviously, it's easy to think it's time to put up the hose pipes or shut off the sprinklers once the heat goes away, but that's not true. Your grass should be getting at least one inch of water a week. To keep a check on how much water your yard is receiving you can use a simple rain gauge. You want to keep your roots hydrated and healthy!
Loosen Up The Soil
Every few years, it's not a bad idea to aerate your yard to prevent your soil from compacting and covered with roots, stems and debris that can block oxygen, water and nutrients that your soil needs to thrive. An aerator can solve this by plunging through the roots, stems and debris and pulling up plugs of soil. The next step after aerating is to fertilize!
Fertilize Seed
Aerating your yard first gives these nutrients the chance to go straight to the root. Just as grass roots need water to last the winter, they also benefit from a shot of the plant sugars that protect roots from freezing and give the entire plant the energy to bounce back in the spring.
TIME TO SEED
Fall is the best time to overseed because the ground is warm, there is plenty of moisture, the nights are cool and the days aren't too hot. Your seeds need to come into contact with the soil and stay moist until they germinate which brings you back to tip #3: keep your yard hydrated!
Taking these easy steps will help you prepare your lawn and help take off some of the yard work in the spring . What else is on your to-do list this fall? If it includes changing up the scenery completely, getting some fresh mountain air and relocating to beautiful Western North Carolina, we can help make that goal happen!
Give Vista Developers a call (866) 519-2400 or contact us online to learn about the beautiful mountain home sites we have available.