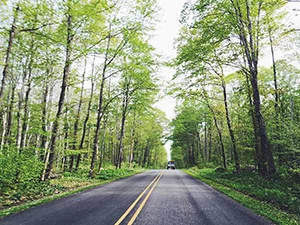 If you're looking for ways to soak up the rest of the Carolina Summer, look no further! Here is a list of the best outdoor day trips no more than 2 hours away from Hendersonville, NC, each with something everyone in your family can enjoy – so pull yourself and your family away from the comfy luxuries of home and spend a day "roughing it" in the great outdoors.
Must-Take Day Trips (Sorted by Distance)
Lake Lure & Chimney Rock – about 30-40 minutes from Hendersonville
With both Lake Lure and Chimney Rock State Park, Rutherford County is a great spot for outdoor fun! It's easy to spend a day in the area with a boardwalk, zip-line tours, kayak tours, hiking trails, rock climbing, geology, waterfalls, and shopping and riverfront restaurants!
Admission to the Lake Lure Beach and Waterpark is $8 per adult, $7 per senior, $6 for children 4-12, and free for children under 4. Chimney Rock admission is $15 per adult, $7 for youth ages 5-15, and free for children 4 and under.
Biltmore Gardens – about 34 minutes from Hendersonville
For those who want some fresh air without venturing too far into nature, try touring the gardens at Biltmore Estate! The manicured gardens are maintained by horticultural experts and the flowers change with each season so you're guaranteed to always see the most beautiful blooms.
Admission is $60 for those 17+ and free for 16 and under. Your ticket includes a self-guided visit of the Biltmore House, Gardens, and Antler Hill Village, as well as a guided tour and complimentary tasting at the winery.
Table Rock State Park – about 47 minutes from Hendersonville
Not only can you hike at Table Rock State Park, you can also fish, boat, swim, geocache, bird watch, and picnic. There is even a playground for kids making this a truly all inclusive family day-trip destination. The park also provides free wi-fi so you can still check in on Facebook and post Instagram pictures of all of your nature adventures as you're living them!
Admission for Table Rock State Park is $5 for adults, $3.25 for SC seniors (65+), $3 for youth 6-15, and free for children 5 and younger from Memorial Day Saturday through the Sunday following Thanksgiving. For the remainder of the year, admission is $2 for those 16+, $1.25 for SC seniors, and free for those 15 and younger. All admission includes access to the designated swimming area when it is open.
Swamp Rabbit Trail – about 1 hour from Hendersonville
If you're into cycling, take a quick drive down to Travelers Rest, SC where you can hop on the Swamp Rabbit Trail! There are many things to do along the trail as you bike or walk your way from Travelers Rest to downtown Greenville, SC – you can geocache, check out Cool Mama's Ice Cream, enjoy the lake at Furman University, grab a bite to eat at the Swamp Rabbit café, enjoy some mountain biking at the Bike Skills Flow Park, then stop downtown Greenville to explore the shops, boutiques, studios, restaurants, and the Reedy River at Falls Park. (Don't have a bike? Not to worry, you can rent one!
The Swamp Rabbit Trail is free for everyone to enjoy.
Crowders Mountain – about 1 hour 23 minutes from Hendersonville
If you're more interested in becoming one with nature than exploring shops and restaurants, try Crowders Mountain State Park. With miles of trails that expose you to rolling landscapes, deep valleys, quiet woods, peaks where you can see for 25 miles, singing birds, trickling springs, and cliffs with 150-foot vertical drops, this is a trip perfect for the outdoorsy types. If you want to make the most of your trip, you should also check out the activities and events/free programs available!
Admission to Crowders Mountain is free for everyone to enjoy.
South Mountain State Park – about 1 hour 30 minutes from Hendersonville
South Mountain State Park is a true outdoor adventure with over 40 miles of trails leading up to elevations up to 3,000 feet and an 80 foot waterfall. On your way to the top you can fish for trout, mountain bike, go horseback riding, and, of course, picnic at either one of the many shelters or at any spot you find that looks great for lunch. (You can even camp if you'd like for your trip to continue for another day!)
Admission to South Mountain State Park is free for everyone to enjoy.
Waterfalls – varying distances from Hendersonville
If you'd rather go chasing waterfalls, check out this blog post we recently published about the best hikes to waterfalls in western North Carolina. You already know the views are going to be amazing, now get out there and enjoy them!
If you're interested relocating to Western North Carolina so that you can immerse yourself in all of the area's opportunities for golf, equestrian sports, mountain biking, water sports, fishing, and even more hiking you should contact Vista Developers today or request a free brochure by clicking the banner below!