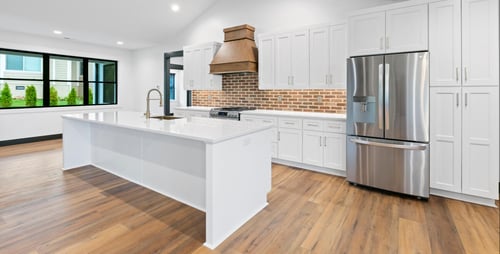 Open or closed off? That's the question many homeowners face when deciding between an open concept kitchen or a formal dining room. The choice may seem like a mere arrangement of walls and furniture, but it embodies a profound shift in how we envision and experience our living/dining/cooking spaces.

A glance at your friends' home designs or a quick online search will reveal that neither design philosophy holds absolute superiority over the other. In fact, the ONLY determining factors are your personal style and unique needs.

In this regard, this post lays out the differences between open concept floor plans and formal dining rooms, including the pros and cons of each design alternative.
Open Concept Floor Plans Vs. Formal Dining Rooms - The Space Design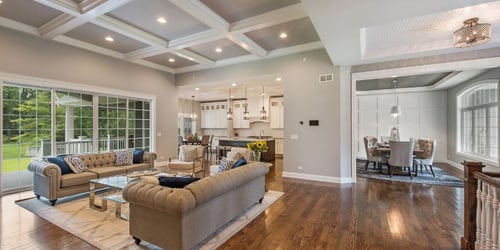 Before we deep dive into the advantages and disadvantages of each design option, let's examine the fundamental features of each alternative discussed.

Open concept floor plans completely integrate the kitchen and dining area into one continuous room without borders. This seamless environment promotes fluid conversation and movement between cooking and eating (hence they are oftentimes called "eat-in kitchens"). The easier flow creates an illusion of more spaciousness and light, providing a casual, cozy feel.

A formal dining room, on the other hand, is a completely enclosed, separate space used solely for dining. This traditional layout centers less on multi-functionality but maintains a classic style. The privacy enables elegant dinner parties without kitchen interference, making the formal dining room perfect for hosting and entertaining guests.
Open Concept Floor Plans - Pros & Cons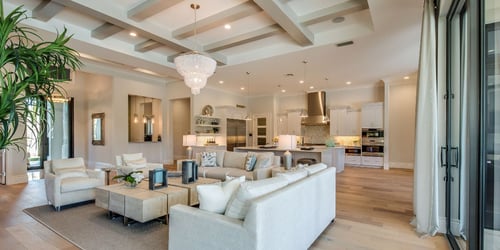 As previously stated, open floor plans seamlessly merge multiple rooms into a single, expansive area. In the context of open concept living, which involves the integration of the living room, kitchen, and dining area, some of the advantages include:
A feeling of amplified spaciousness throughout the home
A relaxed, casual dining area without "formal barriers"
Easy, uninterrupted conversations between rooms (ideal for socializing with your guests while finishing up cooking)
Potentially increased property value
Abundant natural light
Greater accessibility for disabled or elderly family members
However, while open concept floor plans offer a range of appealing benefits, they also come with several drawbacks that should be carefully considered:
Less privacy
Higher upfront construction costs
Increased energy costs for heating and cooling a large, open space
Higher noise levels due to lack of walls
Food odors can permeate furnishings more easily
If after weighing the pros and cons you decide an open floor plan is right for your home, you're invited to explore five open floor plans ideas.
A Formal Dining Room - Pros & Cons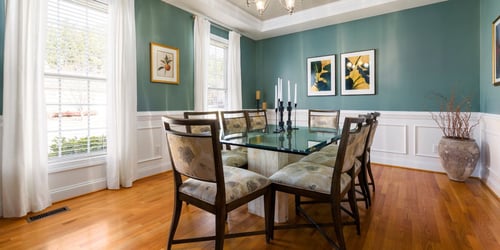 The charm of formal dining rooms lies in their distinct separation from the rest of the living space and kitchen. In contrast to open concept living, formal dining rooms maintain their exclusivity, making them suitable for families who enjoy hosting gatherings. This design approach offers a range of benefits, including:
A beautiful and elegant aesthetic
The intimate space can make guests feel special
Formal dining adds a sentimental, festive, and even romantic feel to the event
The kitchen mess is kept out of sight
Quality furnishings and decor free of clutter can establish a sophisticated setting
On the flip side, formal dining rooms have two main limitations to consider, especially if you don't host that frequently:
An unused formal dining space can become a waste of square footage in a home.
Without regular use, the room may transform into disorganized storage, accumulating clutter and unfinished projects over time.
If you wish to keep the dining room separated from the kitchen, you're invited to explore 4 ways to update your kitchen quickly.
Which Design Option Is Best for You?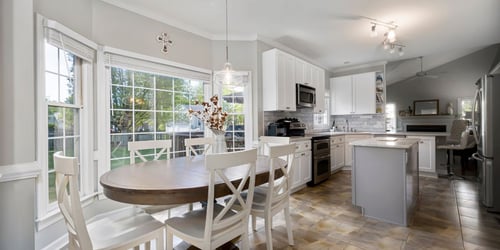 Reflecting on the sentiment expressed at the beginning, the choice between an open concept floor plan and a formal dining room goes far beyond the arrangement of walls and furnishings. To ensure your decision fits your unique situation, try asking yourself the following questions:
Do you want your home to feel big?
Do you want to socialize while you work in the kitchen?
Do you want your dining room to be casually inviting?
If the answer to these three questions is "Yes", you might want to opt for an open concept dining.

Another set of questions you can ask yourself is:
Does your family eat in a formal dining room regularly?
Do you host dinner parties fairly often?
Are you bothered by a kitchen that's not always spotless?
If the answer to these three questions is "Yes", a formal dining room could potentially be the more suitable choice.
Builds what fits you best.
The most important thing is not to rush the decision-making process. Selecting the optimal dining room floor plan is just one of the many choices that go into designing and building the perfect home for you and your family.

Vista Developers can guide you through the process of building a custom home. Call us at (866) 519-2400 or contact us online today!