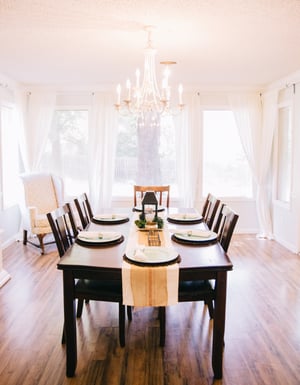 If you've watched HGTV at any point in the last five years, you've probably heard the term "open concept." In fact, you hardly need totune in for more than a minute before someone on screen raves about an open concept floor plan or complains about the lack of one.
Open concept floor plans are certainly popular, and they're likely here to stay. But does the open concept dining room mean an end to the formal dining room? Not likely. Considering the fact that both options have several unique advantages, it's likely that you'll be seeing both formal dining and open concept dining areas in both new homes and homes that have been recently remodeled.
The real question to answer is, which dining room style is right for you? That's what this article will help you determine.
The Case for Formal Dining
Some homeowners are tiring of the obsession about open concept dining rooms. They prefer formal dining rooms for several reasons.
Classic. A formal dining room is timeless and traditional. For many, it's less about functionality and more about maintaining a home's classic style.
Sentimental and romantic. Whether you're planning a romantic date at home or a nice family dinner, formal dining rooms set the mood you're looking for. For many who grew up sharing family-style dinners in their parent's formal dining area, the formal dining room often brings back warm memories that they want to recreate with their own children.
Ideal for hosting. When you're entertaining guests for an intimate dinner or hosting a large party, it can be difficult to make sure your guests have everything they need while also keeping the kitchen clean at the same time. That's why many homeowners like to have a kitchen that's separate from their dining room. They can simply close the door to the kitchen and not worry that their guests are bothered by the dirty pans on the stove.
You should consider formal dining room if...
Your family eats (or plans to eat) in a formal dining room at least once a week.
You host formal dinner parties fairly often. (Remember, formal doesn't necessarily mean suit-and-tie events. It just means you make dinner an event.)
You're distracted or bothered by a kitchen that's not always spotless.
The Argument for Open Concept
In an open concept dining room, the kitchen is usually open to the dining area. This has several benefits as well.
Larger feel. Even if your home is fairly large based on square footage, dividing rooms up with walls will always make it feel smaller. Open concept floor plans make your home's interior appear as large as possible.
Easier conversations between rooms. Sometimes you're not finished prepping dinner when your guests arrive. That's when it's nice to be able to carry on a conversation with them from where you're peeling potatoes over the kitchen sink or sautéing onions on the stove.
Casual and cozy. Typically, open concept living spaces have a slightly more casual feel, making them more cozy and welcoming. The fact that they're usually open to both the kitchen and the living area makes them feel like they're an extension of both rooms where guests can relax and enjoy themselves.
You should opt for open concept dining if...
You want your home to feel big.
You want to socialize while you work in the kitchen.
You want your dining room to be casually inviting.
A lot to think about
Choosing your dining room floor plan is just one of the many decisions that go into designing and building the perfect home for you and your family. Don't rush through the process, making decisions before you're ready or properly informed.
Vista Developers can guide you through the process of building a custom home. Click on the banner below to download our helpful eBook today!