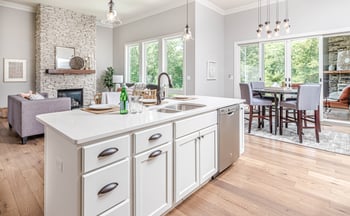 Having an open floor plan continues to be the desired layout for people shopping for homes in the housing market. Not only does an open-floor concept feel open and airy, but it gives the illusion of more square footage.
But with all the benefits an open floor plan provides, it also comes with a few challenges, like how to make the space functional and harmonious without feeling disjointed or haphazardly designed.
The open-floor plan was introduced in the early 1990s and has maintained its popularity in new home construction. Homeowners prefer it for its open sightlines and the ease it provides when entertaining.
Big open floor plans can be intimidating when it comes to arranging furniture, decorating, and defining spaces. You want the design to speak to your sense of style and to work for your way of life at the same time.
To help you get the upper hand when designing for an open floor plan, we suggest these ideas:
Let the room's focal point be your guide.
If you've got an amazing fireplace or a decadent wall of art, you've got a great focal point. Let it drive your design. Arrange your larger pieces of furniture around the room's showstopping elements whether it's the fireplace, a wall of fine art, or floor-to-ceiling windows with sweeping mountain views. Once you've anchored the furniture, you can work on the finer details around them.
Use area rugs to define your spaces.
Another great way to anchor a space and create definition is by using an area rug. Rugs unify an intimate seating area, offer texture, and create warmth. Don't be afraid to use them in both the living and dining areas to make a bold statement and create depth and definition.
Float the furniture.
For a great way to direct foot traffic and create flow and movement in a space is by pulling the furniture off the walls or "floating" the furniture. An elongated wall can be used to showcase your TV, art or an entertainment center with the furniture arranged so that the other side of the room becomes a natural walkway, eliminating the look of an obstacle course in the room.
Create a sense of privacy using barriers.
If you need to isolate a work zone with a desk and computer in your open floor plan, consider using freestanding bookcases, screens, or tall potted plants to create a sense of privacy. Plants also add texture, interest, and absorb sound throughout the area.
Unify the designated spaces with design elements.
Carry a design element throughout each space whether it's a color, pattern, or furniture style. For example, if you have a dinette set with metal accents, carry that same metal into the kitchen or living area by adding an accent lamp or cabinet hardware. If you're using an accent color, punctuate each space with elements like pillows, throws, or kitchen linens in the same accent color to unify the spaces.
At Vista Developers, we design homes with free-flowing home plans. Whether you're downsizing or purchasing your first home, our experts can help you bring your vision to life. We can share ideas and help you create the home of your dreams.