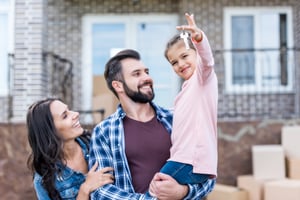 Although home ownership may not be the best decision for everyone, it is definitely an important choice to consider. Home ownership can be beneficial by increasing your independence, as well as paving a path toward economic stability. It can be a rewarding and satisfying experience but not one to be considered lightly. When considering a new home purchase, how do you know it's the right time? Here are a few factors to consider when you are ready to buy a new house:
Housing Market
One important factor is to determine whether the local market you are in is ideal for buying. A buyer's market occurs when the housing supply is greater than the demand. This results in lower prices and a market better for a house buyer. Prices are also highly relative to your particular locale, so research to determine if the home prices in your area are on the high or low end. Keep one eye on mortgage rates as they also change.
Mobility
Since buying a home decreases the ability to quickly move, determine if you are in a phase of life professionally and personally when buying a home is a practical decision. This could depend upon your job or a spouse's job. Maybe you are planning a year long trip! Maybe you know you aren't willing to sacrifice precious mobility, or perhaps you know that you are ready to settle in and establish roots. Either way, it's more affordable to rent for a year than to buy and sell a home.
Initial Investment
How much money do you have saved? This is a great indicator since the purchase will require an initial investment up front. Buying a house will require a down payment which is a percentage of the house's value. You must also have enough to pay for the closing cost fees.
Credit History
Having good credit means you'll be able to finance the house with a loan. Your credit report is based on a variety of factors and checking your credit is the first step in knowing whether it is the right time to buy. Check your score with Equifax, TransUnion or Experian. Your credit report is based on timely bill payment, whether you have large balances on your credit cards and whether you have defaulted on loans. Other considerations are other outstanding loans and payment history, timely rent payment, and debts being turned over to collection agencies. Your credit score will help determine when you are ready for a mortgage. Even if you currently have bad credit, time and work cures all wounds!
Mortgage Payments
You can assess whether you are ready for a regular mortgage payment by taking an honest look at your income as well as your work history. Lenders will calculate your debt-to-income ratio. One way this is done is the 28/36 rule. Your mortgage payment should not exceed 28% of your pretax income and all your other debt should not exceed 36% of your pretax income. Assess your work history by considering your employment history the past two years. Has it been steady? Has your income fluctuated? Have there been any gaps?
Buying a home when you know you are ready can be exciting and fun! Make sure to give yourself a break from any anxiety by knowing what the market is, knowing you are ready to commit to a mortgage, having money saved, knowing you are in the best position to obtain a loan and having the confidence in your professional situation.
In the market for a new home in Western North Carolina? Vista Developers offers custom home building in several beautiful communities in the Asheville/Hendersonville, NC area. Choose from our pre-designed floorplans or design one that is completely unique to you. Whatever your dream home is, Vista will work with you to make that dream a reality!