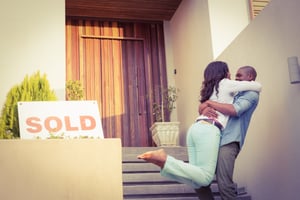 Home buying is one of the most important decisions a person can make. Being aware of the various factors and concerns regarding home buying is incredibly important, so we put together a list to help. Here is what you need to know if you're a first time home buyer:
How Much House Can You Afford?
You will most likely need a mortgage, also known as a home loan, to purchase a house. Odds are you will also need a down payment. One easy way to determine how much of a monthly mortgage you can afford is to multiply your gross monthly income by 28%. This amount will tell you what you can afford in a mortgage as well as maintenance and taxes. For example, if your monthly gross income is $5,000, you should not pay more than $1400 a month (5,000 x .28).
Another way to determine how much you can afford is to go straight to a lender for a mortgage pre-approval. They will take into consideration your credit score, your credit history, as well as other factors. They will be able to give you a detailed figure for how much you qualify to borrow. Doing this also puts you ahead of the game since a home seller knows that you have already done the financial leg work and are ready to buy if necessary.
Do You Have a Good Real Estate Agent?
Home buying is a complex process with high stakes. Not only are you committing to a monthly mortgage, most likely you are putting down a sizable down payment. This isn't like buying a pair of shoes on Amazon! After you navigate the market and find the right house in the right locale, the purchase requires an inspection, transfer of a deed, a title search, and loads of paperwork.
It's best to have a professional at your side who understands the process and can help you think of the dozen or so things that you might not have thought about. They should be someone you can trust and who knows the local market since they will know if a given property is selling at a fair price.
Do You Have Reasonable Expectations?
Although living in the perfect home in the perfect neighborhood for the perfect price is what we all dream of, be realistic and have reasonable expectations after researching what is available in your market. Price, size and location are the three important factors, and it may work that you are only able to get two of the three. You may find that you can afford a smaller place in the perfect neighborhood. Or you may find a large house in an area you don't really like. Or you may pay more than you would like to have both. Learn about what affects property values here!
Do You Understand Contract Contingencies?
Once you have made an offer which has been accepted, be sure to protect yourself with contingencies in the contract. A contingency says you may back out of the deal if something goes awry:
--A home inspection contingency allows you to walk from the deal if you find out something disastrous after the home inspection, like a weak foundation or a leaky roof.
--A financing contingency allows you to back out if your bank does not approve your loan. A pre-approval is not a guarantee of approval.
--An appraisal contingency allows you to back out if your lender values the home at less than what you offered. In this scenario you would have to come up with the difference!
Do You Know About Tax Credit Options?
New homeowners are eligible for tax breaks! For example, you may deduct your mortgage interest or you may receive a tax credit for interest paid. Check with you realtor or local government for more info.
Now you are ready! Happy hunting!