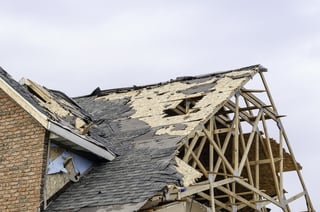 Springtime is in full swing in Western North Carolina with plants, trees, and flowers in full bloom, the weather starts to get warmer and the days become longer. While we all love the warmer weather and the bright flowers, we don't love the heavy rainfall that comes with spring.
We have all heard the saying "April showers bring May flowers" but we never really think about the damage that can come with April showers. Most property damage cases that are handled consist of damage to property as a result of severe thunderstorms that produce large hail, torrential rainfall amounts, and gusty winds.
There are several things you, as a homeowner can do to protect your property before and after a severe storm. Here are suggested tips for protecting your property from a severe storm:
Review Your Home Insurance Policy
First things first, make sure your home is covered! Make sure you're covered for losses caused by a natural disaster or brutal storm. Damage caused by flooding, earthquakes, and hurricanes is usually not covered by most home insurance policies, but can be purchased separately.
Document Everything
Make sure that you have a list of your belongings and any personal property for insurance purposes, and keep this document in a safe place away from your home. Before a storm hits, you can take pictures of the current condition of your property.
Document the condition of the roof on your home and your storage sheds, as well as pool houses, decks, fences or other structures on your property. These pictures can be taken with your cell phone. That way they are saved to your phone and can easily be emailed if necessary. Make sure to have pictures of your outdoor tile and veneers of your home. Having these pictures saves you the trouble of going back and forth with your insurance company.
Try To Prevent Wind and Water From Entering
Try to prevent wind and water form entering your home from the windows, cracks, entry doors and garage doors by sealing your windows and doors as tightly as possible.
You can purchase and install storm shutters to cover your windows. Install special hardware where your doors meet and try bolts that fasten the door into the framing at the top and bottom to more adequately secure your doors
Clean Out Clogged Gutters and Downspouts
If your gutters and downspouts are clogged already, the rain that comes with a heavy storm can't run through, causing it all to spill over the sides and landing in areas where it can soak through to your home's foundation.
Protect Your Home from Flying Objects
Remove any dead and dying limbs from your trees, and secure lawn furniture, trashcans, flowerpots, and other yard ornaments.
Stock Your Cabinets
Make sure to stock your house with anything that you may need if you have to take shelter within your home. Keep a battery-operated radio, flashlights, and extra batteries. Have canned foods and non-perishable food items handy in cause you can't make it out to the grocery store. Don't forget lots of blankets, in case you lose electricity.
Taking these easy steps will help you prepare for severe thunderstorms and protect you and your home from the unexpected. Vista Developers builds custom mountain homes in Western North Carolina. We work with your needs from those first designs through move-in day and beyond.
Interested in learning more? We'd love to hear from you! Give us a call at (866) 519-2400 or contact us online today!