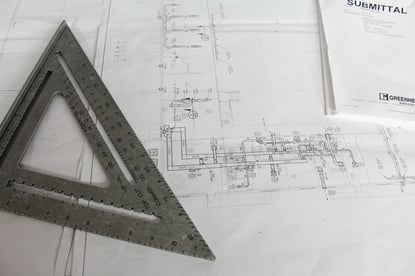 The only things more exciting than building a custom home are all of the milestones, life events, and family gatherings that will happen inside that home.
If you've recently decided to have a custom home built but are still early on in the process, we'd like to offer you some tips we think will help you have the best experience possible and that will also help you avoid any hassle or regret later down the road. So without further ado, let's get started...
Custom Home Building Tips
Check out the land and explore the surrounding area. Before you break ground, not only should you check to make sure that the actual land you'll be building on is what you're expecting, but you should also be sure your new home is being built in a safe area. If you have or plan on having children, look into the school district they'll be a part of, see how close you'll be to grocery stores, find fun things to do, and even learn where the highways are.
Choose a builder that gets positive feedback. Find a local builder who has a positive reputation among past clients, and who has strong relationships with local subcontractors and suppliers. The contractor who has all of this will likely be the best option for you and will undoubtedly be able to craft your dream home at a fair price.
Choose timeless designs and features. Choose colors, fixtures, designs, and technology that will withstand the test of time. By ignoring the tempting call of modern trends, you'll have a home that that will always be in style and that will appeal to general audiences should you ever sell your home.
Balance your current and future lifestyles. It's easy to get swept away with fantasies of having the most beautiful home in the area or having an 8 bedroom 6 bathroom house where your whole family can spend Christmas, but you've got to be realistic. You need to consider things like building a house that's too nice for the area will be a financial nightmare if you move, having too few bedrooms will be inconvenient if you have children, having too many bedrooms will be a pain to heat and cool, having all the bedrooms on the second floor may not seem so great when you get a little older, and sacrificing kitchen space for an extra closet may prove frustrating if you enjoy entertaining. Take the time to consider what you actually need rather than all of the things you just want.
Have a lawyer on hand. Think of this as preventative maintenance. The contract that comes along with a custom built home is nothing to take lightly, and it'll be important to have help on hand should a discrepancy arise or something go wrong.
Need help with custom home building?
If you've not yet chosen a contractor to build your dream home in WNC, we'd live for you to consider us here at Vista Developers. Based in Hendersonville, North Carolina, our goal is to bring inspired community concepts to those seeking to build a new life in Western North Carolina's breath-taking Blue Ridge Mountains.
To get started with us or to even ask a simple question, give us a call at (866) 519-2400 or contact us online when you're ready. You can even click the banner below to download our free ebook to learn what to expect when building with Vista Developers.