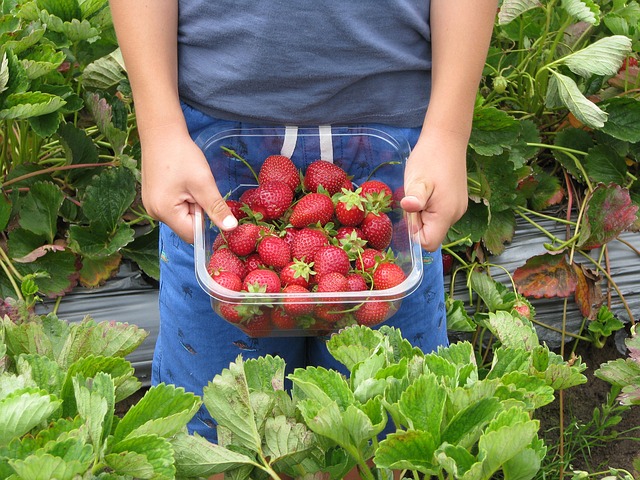 Fall is officially here, and what sounds better than enjoying a homemade cup of apple cider and picking your own fruits and vegetables to turn into your family favorites! We've put together a list of some of our favorite U-Pick farms in the Asheville, NC area.
Make sure to call before you plan a trip to one of the following farms, pack a cooler to stash your pickings, and get ready to enjoy the best locally grown produce you can find. Note: Pick-your-own produce options depend on the time of year, weather, and crop yields, so it's important to call to check that your favorite vegetable or fruit is available.
Beans n' Berries
Located in Connelly Springs, NC, Beans n' Berries offers a wide selection of fruits and vegetables, including Asian pears, persimmons, raspberries, sweet corn, and summer squash. All of their produce is chemical free, and this farm furnishes food 40 weeks a year. You can visit Beans n' Berries in June and July for blueberries and seasonal vegetables, then July through September for raspberries and seasonal vegetables. For more infomation on Beans n' Berries, click here!

Dogwood Hills Farm
This 10-acre farm in Weaverville, NC offers pick-your-own blueberries, blackberries, raspberries, cherries, and dozens of apple varieties. The farm also offers a farmhouse for vacation rental! Click here for directions and hours of availability!
Flying Cloud Farm
This farm in Fairview offers farm tours, workshops, freshly cut flowers, and fruits such as blackberries, blueberries, cantaloupes, melons, and strawberries without the use of chemical fertilizers, herbicides, or insecticides. View the Flying Cloud Farm's website here!
Long Branch Environmental Education Center
This centrally located farm in Buncombe County offers pick-your-own blueberries, raspberries, heirloom apples, and wineberries. It also features workshops, a trout pond, hiking trails, a waterfall, and mountain views. Plan your visit to the farm today!
Piney Mountain Orchards
Visit this Hendersonville farm for apples, blackberries, blueberries, cherries, corn, nectarines, peaches, squash, strawberries, and tomatoes. During the Fall season, you can enjoy fresh apple cider, cider slushies, cinnamon donuts, apples, peaches, veggies, tomatoes, seafood, and more! Follow them today on Facebook to keep up with their daily updates!
Sky Top Apple Orchard
The orchard, located in Flat Rock, offers apples for picking. The scenic farm also offers views of the mountains and orchard ponds, as well as a "barnyard" area with sheep, goats, chickens and turkeys. Enjoy farm tours and hayrides, and refuel at one of their picnic areas. Their U-Pick season typically runs from opening day in August until the end of October. Learn more about Sky Top Apple Orchard!
U-Pick Farms are just another reason Western North Carolina is an amazing place to call home. Whether you've lived here all your life or you're looking to start somewhere new, our communities are perfect for building your luxury dream home. We work with our residents to design and build the exact homes they've been dreaming of, and our communities often include amenities like clubhouses, swimming pools, and even fishing lakes to ensure that when you move in, you're totally at home. To learn more, give us a call at 866-519-2400 or click the banner below to schedule your visit to view the Vista Communities!