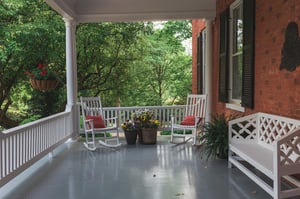 Fall makes front porch sitting much more fitting. The air is crisp. Trees are bursting with color. Temperatures are much more tolerable. And the scent of pine and drying leaves circulates through the atmosphere.
To celebrate this pleasantly serene season, consider giving your front porch a fall makeover that creates a place for you to sip coffee, read a novel, or welcome neighbors.
Even if your front porch is nothing more than a small stoop, you can still make it visually appealing. It all comes down to how you use the design elements, from fall florals and pumpkins to fabrics and foliage.
Let your creativity run wild as you add a touch of fall flair to this inviting outdoor space.
Create a Cozy Nook
If you've got the room, consider adding a bench, comfy chair or porch swing to create an inviting reading nook. Accessorize with warm fuzzy blankets and pillows in complementary colors. Add a small side table with a cute lamp and fill a lantern with mini pumpkins for a pop of color. Complete your cozy nook by placing baskets, pots or buckets filled with fall flowers on either side of your seating area and slide in an outdoor rug and an ottoman to add even more warmth to the vignette.
Let Your Front Door Be a Focal Point
The colors of fall—cranberry red, blood orange, emerald green, deep purple and mustard yellow—typically complement most interiors and exteriors. Be inspired by the changing color of fall leaves and make a bold move by painting your front door in a new hue that celebrates the season. Make it a showstopper by adding a festive fall wreath.
Walk This Way
Don't neglect the walkway leading up to your front door. Treat it as a runway that leads to something beautiful: your newly decorated front porch! Consider lining it with pumpkins in a variety of colors, sizes and shapes on either side. For even more impact, tuck in pots bursting with fall florals like dahlias and mums. Giving this area a little attention will certainly give visitors a warm welcome as they make their final approach to your front door.
Light It Up
Wind a string of white, orange or amber lights through a garland of faux fall leaves or grapevine and outline your front door with this eye-catching accessory. String lights used to be reserved for the Christmas season. Now, lighting up your front porch is a great way to add sparkle and cheer throughout the year.
Let Nature Be Your Guide
Gourds, pumpkins, squashes, spirea, decorative corn cobs, pinecones, mums and spiky grasses are perfect for adding texture and intrigue to your front porch. Display a mix of these natural elements in rustic containers like buckets, straw baskets or weathered pots on either side of your door or on the steps leading up to your front porch.
Whether you go all out or add simple touches to your front porch, any changes you make will amp up the warmth factor and create an inviting natural focal point all the way through Thanksgiving.
There's no place better to enjoy this transformative season than in Western NC
At Vista Developers, we can work with you to build a custom home with an amazing front porch or you can explore our pre-built options right here in the best place to celebrate fall.