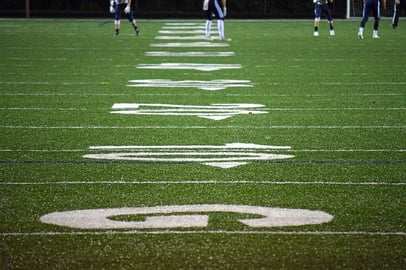 The best time of the year is here — Football season! Throw a party to celebrate the occasion and invite friends, family, and maybe some of your newest neighbors in one of our Vista communities!
Wondering how to host the ultimate football party? We've got the essential tips you need.
Kick off your favorite team's season with these ultimate football party tips:
Food And Drinks
Beer and football go hand in hand and so do hamburgers and hot dogs, but don't leave out the truly classic stadium staples. Popcorn and soft pretzels are always a good way to make your guests feel like they are at the game.
Other party favorites include a 7 layer dip, chili, and barbeque. Make sure to also have non-alcoholic drinks on-hand, like a special punch recipe or even just soft drinks and water.
Lastly, don't forget about dessert! Some great ideas are football-shaped cookies, football cupcakes, and strawberries dipped in dark chocolate.
Comfortable Seating
Where is everyone going to sit during the game? Ample, comfortable seating is crucial for a sports party.
You want all of your guests to feel as comfortable during overtime as they did during that initial kickoff. Whichever way you arrange your furniture, make sure not only that you have plenty of room, but that everyone has a comfortable view of the action on TV.
If you have the space outside, ask everyone to bring their tailgating chairs. Make sure to provide blankets and have extra team sweatshirts on hand for those chilly game nights.
TV Ready
You've got the food, drinks, and seating figured out, there's one more thing to be mindful of — the TV!
You want your TV to be placed at eye-level when you are sitting down. Make sure that everyone has a good view of your TV from the way you positioned the seating. Make sure to check with your service provider that you are able to get the channel the game is on. Check for glares on the TV and shut blinds or curtains to avoid any skewed views for your guest.
If you decide to set the game up outside be sure to rent a projector, screen and some speakers!
Additional Entertainment
Make it fun for everyone! Pick up some corn hole boards with your favorite team's logo or set up "Giant Jenga" with a set of wood blocks. These games can be used all season long and help entertain the guests who just tagged along to party and don't really care about who got a touchdown.
Team Decorations
The final tip is to decorate accordingly supporting your team. Don't forget the football themed tablecloths, plates, napkins, cups, koozies, and serving trays to go along with your theme.
Pro Tip: Don't forget to dress your furry family members in your team's colors and turn them into your very own mascot!
No matter which team wins the game, you can keep your title as a champion host. Planning a successful Ultimate Football Party takes a little creativity, a lot of food, and a game-winning attitude. Now, hustle. You've got a party to plan!
If you enjoyed this article, please check out other posts on our blog and join us on Facebook, Twitter, LinkedIn, Google+, and Pinterest to see how Vista Developers can help you call the Blue Ridge Mountains home.