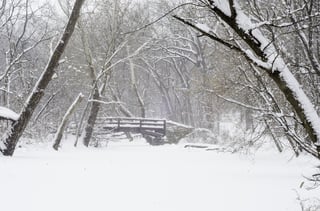 We had our first round of snow here in the Blue Ridge Mountains last week and it reminded us just how important it is to be prepared for winter weather emergencies.
With the weather changing so fast, we want you all to be prepared for whatever Jack Frost sends our way and to make sure your home and your family are safe with the following tips.
Preparing Your Home For Cold Temperatures
Disconnect all garden hoses from outside faucets. Water held in the hose and faucet will freeze and burst the attached piping.
Close all foundation vents on your home. Cold temps combined with a little wind will freeze piping in your homes crawl space if there is an opening for it to come in. Seal all areas where cold and wind can get in.
Keep your house above 68 degrees if possible.
Running a small amount of water from your faucet will keep the water flowing and lessen the chance of freezing if you are unable to protect it with heat.
Repair roof leaks and remove tree branches that could get weighed down with ice or snow and fall on your house or your neighbor's. While you are up there make sure to clear out your gutters of any debris so, they will drain properly.
Prepare Yourself For Cold Temperatures
If you know a big storm is approaching, gather up other necessities like medications and baby supplies, as well as food items that don't require cooking or refrigeration (granola bars or crackers and peanut butter, for example).

Make sure you know how to operate your garage door manually in case your car is inside when the power goes out, and keep a spare house key handy.
Keep an emergency safety kit handy, and make sure everyone in the family knows where it's located:
A battery-operated flashlight, clock and radio.
One or two packages of batteries.
A first aid kit and manual.
A small fire extinguisher.
If you have room, add a few pillows and blankets.
Wanting to head south for the winter? Come home to Vista Developers
Here at Vista Developers, we truly want you to make your home unique and yours, which is why we care so much about our community. If you've chosen to build your dream home in WNC, we'd love for you to consider us here at Vista Developers.
To get started with us, give us a call at (866) 519-2400 or contact us online so we can answer your every need. You can even click the banner below to download our free ebook to learn what to expect when building with Vista Developers.