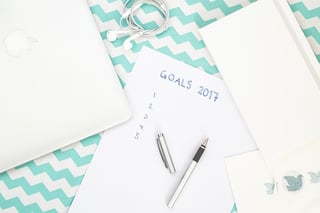 2018 is here! New Year resolutions come along each year every time the ball drops at midnight. As you're setting goals to better yourself in 2018, don't forget about the place that you spend most of your time: your home!
Check off these New Year resolutions for your home to ensure that you and your loved ones living under your roof are safe, happy, and healthy in the year to come.
Test Your Home's Indoor Air Quality
As frightening as it sounds, the air you're breathing indoors could be more dangerous than the air outdoors. To keep your family safe, use January as a time to test your home's air quality for invisible threats and general pollutants that can cause breathing problems, allergies and other dangerous conditions.
Check Your Smoke Detectors
Make sure your home has smoke alarms in all sleeping rooms, hallways that lead to sleeping areas, basements and each additional level of your home.
Note: A good time to remember to check your smoke alarm and change the batteries is when you change your clocks: twice a year as daylight savings time begins and ends.
Set Up A Weekly Cleaning System
Make a plan for a weekly cleaning system for you and everyone living at your home. This will help you keep track of what has been done and what needs to be done each day, week, and month. For a good head start on a weekly cleaning schedule, check out this cleaning schedule from Maids.com! You'll thank us later! :)
Review Insurance Policy
An annual review of your homeowners insurance policy is a must. Fingers crossed you'll never need to use it, but you want to make sure you have adequate coverage on both the structure and your belongings.
It's important to understand what's covered and what isn't, as well as whether you have replacement value coverage (doesn't account for depreciation) or actual cash value coverage (allows for depreciation), which is typically less desirable. If you've remodeled or added a pool or storage shed, make sure that's noted on your policy.
Note: If you're interested in saving money on your homeowners insurance, ask your agent for a higher deductible, which should lower your payment.
Find Yourself In A New Home In 2018!
If you are looking to take a leap this year and find a perfect home for you and your family, we are here to help! At Vista, we truly fell in love with the beautiful landscapes of the Blue Ridge Mountains in Western North Carolina, and we dedicated ourselves to building long-lasting communities that let our residents truly enjoy living in this uniquely beautiful location. Take a look at our communities to see if any of them work for you, or come by for a visit! Just give a call at (866) 519-2400 or contact us online at any time to learn more today.
If you enjoyed this article, please check out other posts on our blog and join us on Facebook, Twitter, LinkedIn, Google+, and Pinterest to see how Vista Developers can help you call the Blue Ridge Mountains home.