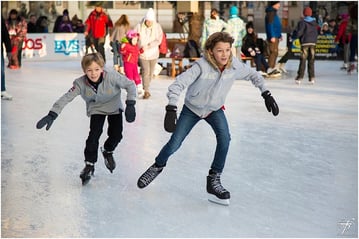 Winter is officially here for Western North Carolina, and there are so many fun events and holiday happenings this time of year that we've had the hardest time containing our excitement!
We've put together this list of what we consider to be must-do winter holiday events in the Asheville, North Carolina area to help you and your family spend your winter break the right way! Here are our top 5 events to experience this holiday season:
Biltmore Candlelight Christmas Evenings
Friday, November 4, 2016 to Saturday, January 7, 2017
From fireplace mantels draped with evergreens to towering trees festooned with lights, Candlelight Christmas Evenings offer a warm welcome. By reservation only, these special evenings have become a cherished tradition for their unique view of holiday lights, live music, and the Biltmore House displaying its magnificent Christmas decorations. Plan your trip to the Biltmore today!
Polar Express Train
Friday, November 11, 2016 to Friday, January 8, 2017
ALL ABOARD!!! A favorite holiday tradition for all ages is the Polar Express Train excursion through the Great Smoky Mountains Railroad. The 1.25 hour round-trip excursion departs the Bryson City depot and heads through the woods to the North Pole! You ride includes music, hot cocoa, and delicious cookies to help you relive the magical story. When you arrive at the North Pole, Santa will be waiting excitedly greet you all! Reserve your tickets today!
Winter Lights at the North Carolina Arboretum
Friday, November 18, 2016 to Sunday, January 1, 2017
Open Nightly: 6-10pm
Winter Lights is a three-acre nightly walking tour of The North Carolina Arboretum's nationally-known gardens, including its Quilt Garden and Bonsai Exhibition Garden. Celebrate the holidays and discover the natural beauty of western North Carolina through lighted garden exhibits and landscapes. Visit the event website for more information!
Ice Skating On Main
Tuesday, December 20, 2016 to Sunday, January 1, 2017
Open Daily: 10am-8pm
An exciting new attraction is happening this holiday season in Downtown Hendersonville. Lace up your skates and head to the skating rink at the Visitor Center located at 201 South Main Street. Get directions!
Forest City Hometown Holiday Lights
Thursday, November 24, 2016 to Monday, January 2, 2017
Take a stroll down Main Street in Forest City, North Carolina to see the streets decked out with a million lights and get yourself in the holiday spirit! This holiday tradition dates back to 1930 when the town hung its first set of lights on only two trees. Grab a blanket and a cup of hot chocolate and take a carriage or hayride through this magical display of lights! Read more about Forest City!
We hope you and your family are able to enjoy all the magical things happening in and around Asheville, North Carolina. Feel free to head to our Facebook page and share your adventures with us!
If you enjoyed this article, please check out other posts on our blog and join us on Facebook, Twitter, LinkedIn, Google+, and Pinterest to see how Vista Developers can help you call the Blue Ridge Mountains home.