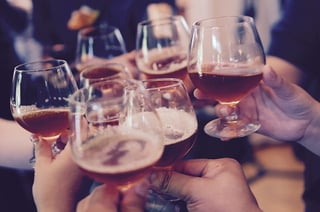 If you've invited guests to bring on the madness at your house this March, you don't want to wait until late in the game to pick up all the ingredients for a slam-dunk party.
We've put together a quick and helpful reference guide to help you plan a March Madness party everyone will keep on cheering for. Here are our ideas for a great time from tip-off to final buzzer.
Costumes
Perfect for all ages, a costume party doesn't have to stop at the standard team jerseys. Perhaps all the hosts could dress in black and white like referees? Don't forget the whistles! Or how about a retro basketball theme for the costumes? Can you imagine Dennis Rodman's famous hair, Larry Bird in his Celtic green, and a 1970s-style Harlem Globetrotter all cheering in front of your TV? Kids and pets can enjoying dressing up, too.
Party Décor
Inflatable beach balls decorated as basketballs, miniature hoops with nerf basketballs, a net draped over the snack table, and strategically placed team pendants can add an athletic flair to your house. For kids' parties, basketball-themed drinking cups, plates, tablecloths and napkins can be fun. Use disposable orange forks and knives so you don't have to wash up. It's a good idea to have some board games, outside toys, or art supplies on hand for young guests who may find the game too long to enjoy. We don't want anyone but the players in time out.
Party Snacks
Chips and dip can make a distracting mess during the game, but there's plenty more you can do to keep your famished sports fans well-fed. How about pimento cheese sandwiches? The filling is easier to make from scratch than you might think. Pigs in blankets, homemade pizzas, quesadillas, and platters of wings will be met with cries of appreciation. For dessert, think about things that are easy to hold like ice cream sandwiches or cookies decorated to look like basketballs. Keep some rice crispy treats dyed in team colors, a bowl of chex mix, and some Spaulding party napkins on hand for stress-snacking when tensions are running high on the court.
Party Drinks
Cold beer is the standard American sports beverage. Make sure to select several good brands of ale and lager to have on the bench in case the clock runs into overtime. If you are a dab hand with the cocktail mixings, try crafting a Slam Dunk Punch, a 3-Point Basket (use dark rum), or an Overtime Cocktail. Score some major points with non-drinkers by offering creative virgin drinks, fruit juice concoctions and Mexican sodas in unusual flavors. Root beer is always a winner at kids' parties. Try offering a spicy, locally brewed root beer to tempt the adults, too; they'll be back for a second glass before halftime.
No matter which team wins the game, you can keep your title as a champion host. Planning a successful March Madness party just takes a little creativity, a lot of food, and a game-winning attitude. Now, hustle. You've got a party to plan!
If you enjoyed this article, please check out other posts on our blog and join us on Facebook, Twitter, LinkedIn, Google+, and Pinterest to see how Vista Developers can help you call the Blue Ridge Mountains home.