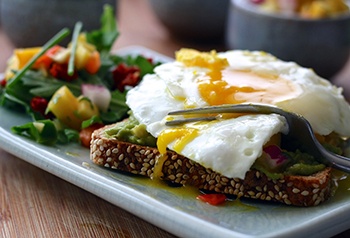 While we're always up for helping the residents of our great Vista communities figure out a pefect spot to head out for a night on the town, it's really breakfast where the WNC shines. From traditional biscuits-and-gravy offerings through more varied fare, WNC has lots of breakfast options you're sure to enjoy. We've pulled together five of our favorites to recommend, so that no matter where you are in Western North Carolina, a great breakfast is only a short trip away.
Spending the Day in Asheville? Try Biscuit Head!
While Biscuit Head's new location in Greenville, South Carolina, has recently been getting lots of press, their original Asheville location (they currently have two — one at 733 Haywood Road and the other over at 417 Biltmore Avenue) is still our favorite spot to start our day.
We recommend sticking to the classics; order a biscuit-and-gravy-flight and receive one huge biscuit and your choice of three of their gravies. Options include venison sausage, veggie "chorizo" gravy, and our personal favorite, fried-chicken gravy that can't be beat. If you're gluten-free, you're in luck! Biscuit Head is able to provide gluten-free biscuits, so you won't be left out just because biscuits and gravy are on the table. They also have special menu items like a fried-catfish biscuit, the Cajun Benedict, and lighter fare like a quinoa scramble. Check out their menu here to get more details. Hours vary by location, so make sure to check the website before you head out!
Looking for Breakfast near Lake Lure? Medina's Village Bistro Has You Covered.
Located on Main Street in Chimney Rock, NC, Medina's Village Bistro is a great option for when our Lake Lure residents are hoping to stay close to home and still get out for a great meal. They start serving breakfast at 7:30 am until about 10:30 (depending on traffic volume that day), and the menu includes traditional pancakes-with-syrup, biscuits and gravy, or our personal choice — the Royal Breakfast Hash-Casserole, an amazing creation involving corned beef, potatoes, peppers, cheese, onions, and more.
Of course, sometimes you're not in the mood for hash and you're really wanting something sweet... that's where their giant cinnamon rolls come into play. A must-visit, whether you live in our Bill's Mountain community or you're just in Lake Lure or Chimney Rock to visit.
In Hendersonville, Mike's on Main is the Place to Be.
Okay, we admit it, we're a little biased when it comes to breakfast options in Hendersonville. Mike's on Main is our absolute favorite, and we highly recommend it to new residents and visitors alike!
With a $3.95 early-bird breakfast special that leaves your stomach and your wallet full and breakfast options including sandwiches, burritos, pancakes, Benedicts, and even delicious Nova salmon on a bagel with cream cheese and capers, everyone will be able to order exactly the breakfast they've been dreaming of. Vegetarian options available. Check out their menu to get a better look.
Taking a Daytrip to Upstate SC? Stop by Tandem Crêperie & Coffeehouse
When heading down into the Upstate for the day, we suggest stopping in Travelers Rest for breakfast. "TR," as it's known by the locals, is an up-and-coming small-town with increasingly eclectic and interesting options for shopping, dining, and local farmer's markets that combine locally-grown produce with artwork, candles, and more. When you head into TR, Tandem Crêperie & Coffeehouse is our local fave.
While their menu is nearly nothing but crêpes (there is also usually a "featured waffle" option), they maintain both sweet and savory options, so you'll never go hungry if you're not in the mood for sugar. The menu changes seasonally, allowing the staff to make the most of fresh ingredients and try out new ideas. Their baristas make some of the best lattes in the Southeast, and if you're not a coffee drinker, fresh juice or handcrafted sodas are also available. The only downside? Tandem is seriously popular, so we suggest either showing up right at opening or giving yourself a little extra time to wait in line. We promise the wait is totally worth it.
Building A Dream Home in Western North Carolina? Build With Vista!
Western North Carolina is an amazing place to call home. Whether you've lived here all your life or you're looking to start somewhere new, our communities are perfect for building your luxury dream home. We work with our residents to design and build exactly the homes they've been dreaming of, and our communities often include amenities like clubhouses, swimming pools, and even fishing lakes to ensure that when you move in, you're totally at home. To learn more, give us a call at 866-519-2400 or contact us online at any time.