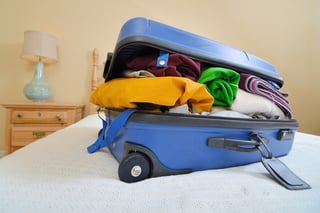 Planning for your annual family beach trip, or dreaming about a weekend getaway in one of North Carolina's gorgeous campgrounds?
Go for it! Just be sure to secure your home before you leave.
A few extra steps of preperation will keep your property and personal belongings safe while you're gone, and keep your mind at ease once you're on the road to adventure!
Make sure to check the following "Home Safety Checklist" before heading out for your well-deserved vacation:
Put Your Mail On Hold
Who wants to come home to an overflowing mailbox? Not only does it create a more chaotic scene upon your return, it's also a big red flag to unexpected visitors that nobody's home.
It's fairly simple to have your mail put on hold, with three different options to choose from. You can go directly to your local post office in person, use the website, or just give them a call.
Then, when you get home from your trip, just swing by and pick all your mail up. Find your local post office here!
Make It Seem Like Someone Is Home
Create the illusion that your residence is still occupied!
Invest in automatic timers that turn on your interior lights for a few hours every evening. Many timers can be set to turn on and off randomly rather than on a specific schedule, so it looks more like residents are home and heading around the house.
Make sure to NEVER leave lights on without a timer, you don't want to end a relaxing vacation with an electrical fire.
Pull The Plug
Before you leave, be sure you've unplugged all non-essential electronics such as stereos, televisions and computers. You'll even want to unplug small appliances, including coffee makers, toaster ovens, microwaves.
These appliances drain energy even when not in use.
Extra Tip: Turning off your garage door is also an effective way to keep thieves from opening it with a universal remote. Make sure to have a secondary entry upon your return.
Adding A Security System
Installing a home security system or even just exterior lights that run on timers or by movement is a good way to add extra security around your home.
Home security systems help keep your home and belongings safe when you are home and when you are out.
Hiring A House Sitter
If you have a neighbor or dear friend you trust, it's always best to leave a spare key with them or have them stay in your home while you are away. This keeps your house from being attractive to unwanted visitors.
Plus, if you have animals they can keep them company while you are gone without you having to have them boarded.
Live With Vista Developers
At Vista Developers, our Bill's Mountain community is a gated mountain community where we pride ourself on the protection and security of our residents.
If you are in the market for a new home in the Hendersonville, NC area we'd love to help you find your dream home! Give us a call at (866) 519-2400 or contact us online today!