Black and white designs are a century-long trend that will never go out of style. Whether it's interior or exterior design, black and white will always give your space an elegant and classy feel.
While the options for incorporating black and white designs are endless, you may still find yourself lost in knowing where to start. If you are new to the black-and-white home trend, we are here to give you a few of our favorite effortless trends.
From your home's exterior to your bathroom, here are a few ways to incorporate black and white designs into your home: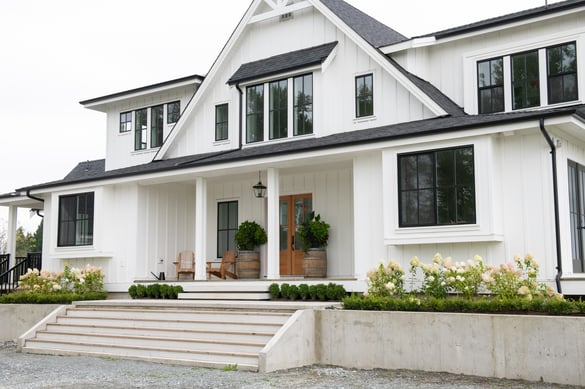 Home Exterior
Black window frames have been part of exterior home design for hundreds of years. Although black windows are not a new trend, adding them to a white home will instantly add a bold, timeless look to your home.
Opting for black exterior windows is a great way to add contrast and dimension to a white home. Whether your home aesthetic is modern, farmhouse, or industrial, black window frames will always be a timeless option.
Entryway
Adding black and white to your entryway staircase is a simple, DIY-approved way to add sophistication and elegance to your home.
There are so many options when designing a black and white staircase. If you love at-home projects, staining the tread black and painting the riser white is a great idea. Painting the banister black or white will make it pop even more.
A black and white patterned runner can add that wow factor for those not ready for a longer project.
Kitchen
Whether you are renovating or just redecorating, black and white kitchens will never go out of style. Many say the kitchen is the heart of the home, so why not make it feel like the most important space in your home?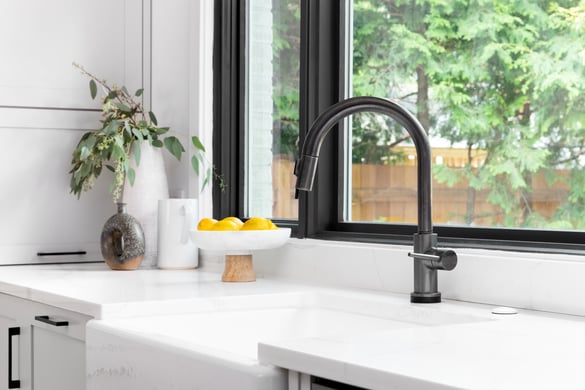 For those who are ready to design their dream kitchen, some ideas to incorporate black & white are:
White marble countertops against black cabinetry
Black stainless steel faucet against a white sink
Black & white backsplash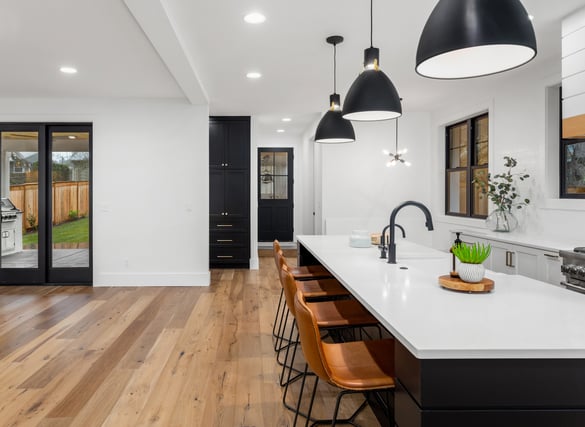 For those not wanting to break the bank, we added some budget-friendly hacks:
Black barstools against a white counter breakfast bar, or vice versa
Black & white accents such as tea towels, crockery, and artwork
Spray paint your cabinet hardware white or black to add contrast
Bathroom
A half bathroom is a great place to start if you are still on the fence about the black-and-white trends. If you have a white countertop, consider painting your walls black. If you are looking to add more creativity, think about adding black and white wallpaper with a fun design.
You can also:
Add black and white bathroom accessories such as soap dispensers, hand towels, and artwork
Switch out silver or brass faucets for black stainless steel
Add sparkly silver light fixtures to contrast with black walls

The beauty in a black and white palette is in simplicity. Black and white designs don't require intricate designs or expensive pieces of furniture, but rather a clear vision.
As a reminder, Vista Developers is always here to help you build the home of your dreams and gives you the opportunity to choose all the materials for every part of your home.