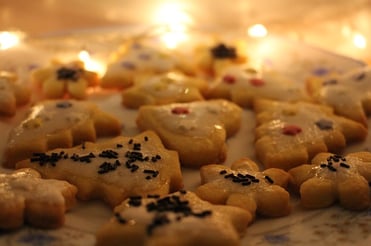 No matter how old we get, we always anticipate the fun and the magic of the Christmas season; the lights, the decorations, wrapping presents, and, of course, hosting Christmas parties!
If you're getting ready to host a holiday party, these tips should help you in hosting a stress-free event so not only will your guests will have a great time, but "yule" be able to enjoy the evening yourself! When planning your Christmas party make sure to remember these Holiday tips:
Make A List (And Check it Twice!)
The first step to hosting a stress-free Christmas party is to make a few very important lists and live by them; make a guest list, a menu & grocery list, and a list of things that need done around the house before guests start arriving! Plan ahead to check off as many items on your lists as you can before the party, but for the few things that still need done during the party, don't be afraid to delegate! Asking guests to help with party-related tasks makes them feel more involved. Trust us—it doesn't hurt to ask!
Make Easy, Impressive Dishes
Our stress-free plan calls for easy-to-prepare dishes that taste anything but easy. Choose recipes that you can make ahead of time, then fill in the gaps with pre-prepared store-bought sides (sssh, nobody has to know they aren't homemade). Plus, finger foods mean less clean up!
Tip: Keep in mind if your guests have any allergies or other dietary restrictions!
Manage The Mood
Turn off the bright overhead lights, and use candles and lamps to create a warm glow. Create a playlist with traditional holiday songs and other favorite party tunes!
Tip: Spotify offers many premade playlists for you to choose from.
Keep Drinks On Hand
Keep your bar stocked with your basics: vodka, rum, and a few choices of wine, and a variety of mixers and sodas (and don't forget the ice)! And for those who don't care for cocktails, make sure to have coffee, hot cocoa, cider, and a basket of teas on hand.
Tip: Create a little "DIY Cocktail Station"
Open Your Space
Declutter as much as possible before your guests arrive! Make sure there are clear paths to the door, the bathroom, and where you are serving food and drinks. Rearrange your furniture to create a flow that makes sense.
Work Behind-the-Scenes Magic
Fill your sink with warm, soapy water and drop in used dishes during the party
Crack a window to allow fresh, cool air to circulate
Keep food warm in a warming drawer or in your oven at 200 degrees
Put a coat rack in the entryway against a wall
Yes, it's the most wonderful time of the year—but it can also be one of the most stressful! We hope we've helped you find a way to make this Christmas season more enjoyable for you and your family by stopping stress in it's tracks.
If you enjoyed this article, please check out other posts on our blog and join us on Facebook, Twitter, LinkedIn, Google+, and Pinterest to see how Vista Developers can help you call the Blue Ridge Mountains home.